Level of service rating
Public access road register
Roadworks and temporary closures
Permanent road closures
Works on Roads
Gates and Grids Policy
Council plans, constructs and maintains roads, drains, footpaths and other public infrastructure throughout the region. The Gladstone Region incorporates 390km of asphalt streets and roads, 560km of bitumen seal roads and a total of 1448km of gravel roads.
Council has direct responsibility for the maintenance of its road network however the Department of Transport and Main Roads is responsible for several roads that pass through the region. In other instances, Council constructs roads on behalf of the Department of Transport and Main Roads.
Capital funding is allocated each year to try and meet the asphalt overlay and bitumen reseal requirements. Road reconstruction and upgrades are required at times due to the road reaching its designed life. Roads are assessed on condition and predicted traffic increases and then prioritised for future capital works programs.
Council's roads are allocated to a southern, western and central region. Throughout the region, asset inspectors continually inspect roads, footpaths, car parks, drainage structures, bridges, boat ramps and jetties. The workforce consists of a combination of crews to deal with reactive and programmed maintenance and capital works. Reactive road maintenance involves response to repairs created by unexpected events such as car accidents and weather damage.
Level of service rating
Each road within the region has an assigned hierarchy and is categorised on a scale according to its design and purpose.
This determines inspection requirements, including a schedule of when roads should be inspected and criteria for maintenance.
Levels of service (road maintenance) Roads and streets operational schedule Maintenance levels of service manual
Sealed roads and carparks
Footpaths
Kerbs, medians and channels
Road drainage
Underground stormwater
Open drains.
Public access road register
Council register of public access roads as per section 74 of the Local Government Act 2009 (Qld)
Roadworks and temporary closures
To enhance Council's preparedness for disaster events, several cameras have been installed in the southern part of the region where flooding often occurs, closing roads for extended periods of time.
For information on road closures, visit RegionWatch
Information available on RegionWatch includes:
Road Conditions
Weather Warnings
Power Outages
Emergency News
Mapping Information:

Road Status
Flood Cameras
Evacuation Zones/Flooding Levels

Links to important sites and information.
Flooded roads Roadworks Public notices for Roadworks, closures and conditions
Permanent road closures
The following roads are closed permanently under section 69 of the Local Government Act 2009 (Qld):
Road reserve parallel to Venus Street, between Mercury Street and Capella Street, Telina. View map
Public notices for Roadworks, closures and conditions
Works on roads
Carrying out works on a road or interfering with a road or its operation requires a permit from Council this includes erecting temporary fencing, barricading and/or plant/material on road or footpath.
Types of works on roads are:
General works on roads including footpaths
Event, festival, march, parade, procession (open/occupy road or disrupt traffic flow)
Connect to Council stormwater drain
Gates and grids Installation.
To obtain a permit the applicant must complete an application to carry out works on a Council road form and submit to Council with the application fee. Application with payment must be submitted to Council a minimum of 21 business days prior to proposed commencement date of work. A copy of Council's standard conditions are available online.
Gates and grids policy
Council's Gates and Grids policy was adopted in 2020 to assist landholders with ongoing maintenance of these assets. The policy applies to gates and grids that are on Council maintained roads and ensures that:
Installation and maintenance meet appropriate safety standards
Insurance and liability are the responsibility of Gladstone Regional Council
Renewal / Replacement costs of the assets is the responsibility of the landholder through a private works agreement.
The policy does not apply to gates and grids at property entrances, property boundaries, on boundaries of maintained roads that merge into an unmaintained road or where the gate or grid is not on a Council maintained road.
To obtain a permit to install a new gate or grid, the applicant must pay the set fee and provide the following:
Details of the proposed location of the gate or grid including a GPS location; and
Alternative options already investigated to contain stock including a cost estimate for the installation of a rural fence on the property boundary adjacent to the road that the gate or grid is to be installed on.
If applicant is successful, the applicant must then sign a private works agreement with Council to pay for the installation costs.
Print this page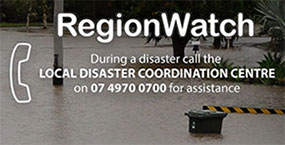 RegionWatch
RegionWatch is our community's online platform for reliable, up-to-date and vital information during emergencies and disasters.
Visit RegionWatch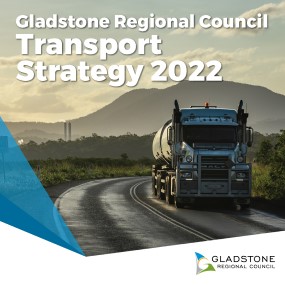 Council recognised the important role we play in delivering transport services to the region by endorsing the Gladstone Regional Council Transport Strategy 2022
View Document
Return to top
Gladstone Regional Council
Connect, Innovate, Diversify
© 2023 Gladstone Regional Council
All content © Gladstone Regional Council. All Rights Reserved.
Back to the top