Opening hours
Fees and charges
Free mulch
Conditions of entry
Opening hours
Rubbish can be delivered to waste transfer stations and landfills located across the region.
Public holidays and other closures
Benaraby Landfill is open on all public holidays including Christmas Day. (Excludes Christmas Day falling on a Saturday or Sunday).
All other Transfer Stations will be closed on Christmas Day and Good Friday.
Note: Residents affected by the October/November 2023 Deepwater/Baffle Creek and Lowmead Fires are eligible for cost-free dumping at the Baffle Creek, Rosedale, Agnes Water and Bororen Transfer Stations, and the Benaraby Landfill.
Proof of address is required for Council Officers to waive fees and charges when disposing of fire-affected waste.
Fees and charges
Many recyclables can be delivered free of charge. General and green waste can be delivered free of charge, up to certain quantities. Larger loads incur a fee. Fees are relevant to all sites.
Free mulch
When available, mulch can be collected from the below transfer stations.
Mulch Availabilities (as of 04/12/2023)
Benaraby Landfill - no mulch available
Gladstone Transfer Station - mulch available
Agnes Water Transfer Station - no mulch available
Rosedale Transfer Station - mulch available
Baffle Creek Transfer Station - no mulch available
* Please note:
Mulch is currently free for both domestic and commercial customers to reduce existing stocks. Please see Council's Fees and charges for further information regarding large quantities of mulch.
Benaraby Landfill and Gladstone Transfer Station is currently offering mechanical mulch loading for free to reduce existing stocks.
Agnes Water Transfer Station is self-loads only. When mulch is available.
Conditions of entry
Use of Gladstone Regional Council Transfer Stations and Benaraby Landfill is dependent upon customers adhering to conditions of entry when on site. The conditions are designed to ensure the safety of customers and staff at Council's waste transfer facilities.
The following conditions apply:
Council reserves the right to inspect all loads
Scavenging is not permitted
Climbing on - or removing material from stockpiles is not permitted
Children and pets must remain in vehicle at all times
Enclosed footwear must be worn
Flares, EPIRBS, explosives, ammunitions, fire extinguishers and medical waste are not accepted
Hazardous waste, such as flammable, toxic, corrosive, radioactive and asbestos materials are not accepted without special disposal approval
No smoking or lighting of fires
Obey all staff directions and advisory signs
It is the driver's responsibility to unload his or her vehicle
Council reserves the right to refuse entry to, or accept waste from, any person or commercial entity.
Print this page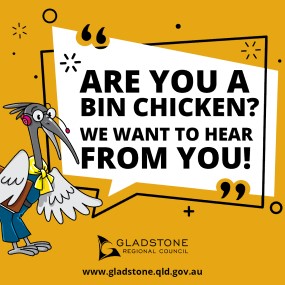 Don't Waste our Waste!
Don't waste this opportunity – take the time to share your waste management practices and preferences.
More Information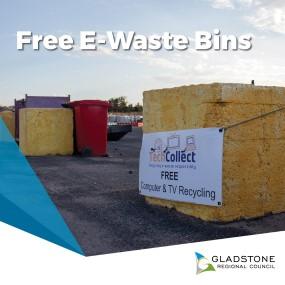 Free e-waste bins
E-waste, including laptops and rechargeable batteries, are a fire hazard when mixed with your general waste. Help protect our team and the public by only disposing of these items at our FREE e-waste bins found at all of waste facilities.
More information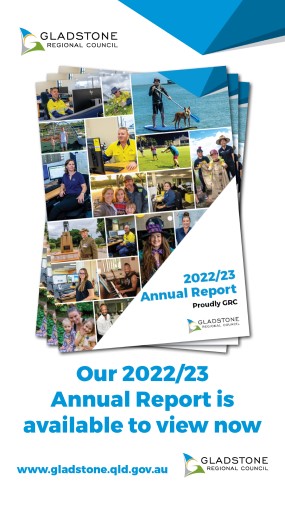 Learn more about our achievements, challenges and plans for the future in our 2022/23 Annual Report.
More Information
Gladstone Regional Council
Connect. Innovate. Diversify.
Return to top
Get in Touch
Opening Hours
8.30am - 5pm Monday to Friday
Postal Address
PO Box 29, Gladstone Qld 4680
Council Offices
101 Goondoon Street, Gladstone Qld 4680
3 Don Cameron Drive, Calliope Qld 4680
41 Blomfield Street, Miriam Vale Qld 4677
Cnr Wyndham & Hayes Avenues, Boyne Island Qld 4680
Rural Transaction Centres
71 Springs Road, Agnes Water Qld 4677
47 Raglan Street, Mount Larcom Qld 4695
Footer Acknowledgement
Gladstone Regional Council would like to acknowledge the Bailai, the Gurang, the Gooreng Gooreng and the Taribelang Bunda people who are the traditional custodians of this land. Gladstone Regional Council would also like to pay respect to Elders both past, present and emerging, and extend that respect to other Aboriginal and Torres Strait Islander people. Learn more about Council's Reconciliation Action Plan (RAP).
© 2023 Gladstone Regional Council
All content © Gladstone Regional Council. All Rights Reserved.
Back to the top