COVID-19 Update for Council Facilities
Our commitment
Gladstone Regional Council will continue to prioritise the safety and wellbeing of the community and will continue to abide by the Queensland Government's health directive.
Mask requirements
Please visit Queensland Health for the latest face mask requirements.

Agnes Water Skate & BMX facility, Springs Road, Agnes Water (Captain Cook Lions Park)
Located close to Agnes Water School
Shaded playground
Fitness stations
Amenities block
Seating and picnic table
BBQ
Off-street parking
Bray Park, Wyndham Avenue, Boyne Island
Riverside Skateway
Pump track
half pipe, mini bowl, start ramp, ¼ pipes, fun box and grin boxes
Seating
Upgrades to the skate park and pump track took place in late 2018, funding for the projects provided through the Queensland Government's Works for Queensland program, which contributed $885,000 out of an expenditure cost of $985,000. Council allocated $100,000 from the 2017/18 budget to the project.
Bunting Park, Archer Street, Calliope
Skateboarding, rollerblading and BMX trick riding facilities
Basketball facility
Amenities block
Girl Guide Hall and Scout Hall
Cricket, soccer and rugby league fields
Cassy Lives Skate Park, New Auckland, Gladstone
Contemporary skate park
Natural environment
Urban plaza design
Ledges, stair sets, rails
Hump bridge with rail
Kerbs, kickers, banks
Quarter pipe
Steel mini ramp
Seating and rubbish bin
Drinking fountain
The legacy of Cassy Jones has grown even stronger following the recent completion of the Cassy Lives Skate Park upgrade.
Council undertook extensive community consultation prior to redesigning the skate park – firstly in October and November 2019 to understand the community's needs and priorities regarding the skate park and again in July and August 2020 – with the latter offering the community a chance to vote on their favourite design.
Please visit https://conversations.gladstone.qld.gov.au/cassy-lives-skate-park for more information about Cassy Jones.
The $325,000 Cassy Lives Skate Park upgrade works was fully funded by the Queensland Government's COVID Works for Queensland program.
Memorial Park, Yarroon Street, Gladstone
Safe and supervised venue for Skateboarding, rollerblading, scooter and BMX
Shaded facility
Pump track
Vert wall, ¾ bowl, stairs, fun box, mini ramp and grind box/rails
Caters for first timers to professionals
Total project cost was $425,000 with a further $65,000 added to incorporate shading for the facility. The project was made possible thanks to funding and support from Bechtel Corporation, Qld Government Department of Sport, Recreation and Planning, the Australian Government through the Regional Partnerships program, Parmac Property Group, Goldings and Cement Australia. Many local companies also offered their support and services towards the project.
Nagoorin Skate Park, Dawes Street, Nagoorin
Modular skate park design
Ramps and slides
Nagoorin Skate Park was developed using the latest modular skate park design. The $65,000 skate park contains ramps and slides and was opened in June 2012.
Yarwun Recreation Grounds, Calliope River Road, Yarwun
Amenities block
Seating
Concrete half pipe, quarter pipe, wedge ramp, mogul, grind rails
Flat skating space with basketball hoop
This facility cost $54,000 to construct, including the refurbishment of the amenities building, seating, signage, landscaping and construction.
Print this page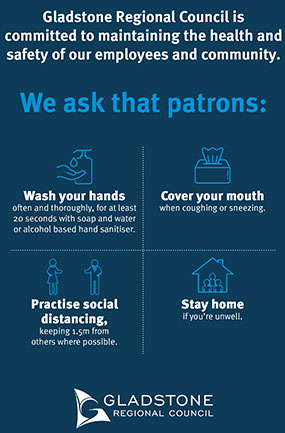 We ask that visitors do not attend our facilities if you; have returned from overseas or a COVID-19 hotspot in the last 14 days, have cold or flu like symptoms, have been in contact with a confirmed case of COVID-19 in the last 14 days.
Return to top
Gladstone Regional Council
Connect, Innovate, Diversify
© 2023 Gladstone Regional Council
All content © Gladstone Regional Council. All Rights Reserved.
Back to the top