The Gladstone Region is home to a number of beautiful walking and biking tracks for all abilities. From a light stroll to rolling hills, there are a number of different ways to explore both the natural and residential scenery.
The Round Gladstone Trail
The Round Gladstone Trail is clearly marked with signs with the trail logo. Each section of the trail has a unique number which is shown below the trail marker or engraved on a wooden post. The trail numbers indicate which section of the Round Gladstone Trail you are currently exploring.
Trail 1
Starting from the economic horticulture (orchard) section at Gladstone Tondoon Botanic Gardens, trail 1 is accessible via the main entrance gate on Glenlyon Road or via the Southern Cross Close entrance and consists of two sections. The Winery Circuit is 2.5km long and lies entirely in Police Creek Environmental Reserve (Gecko Winery is accessible from this trail). The Kirkwood Loop is 5.6km long and traverses Council and privately-owned property.
Trails 2 and 3
Start on Haddock Drive and are both approximately 3km long and follow the banks of Police Creek.
Round Gladstone Trail overview map Round Gladstone Trail - maps 1, 2 and 3
Bikeways
Experience the natural beauty of the Gladstone Region with a relaxed ride through the numerous parks and reserves scattered throughout the area. Bicycle riding is one of the most popular forms of recreation as it not only provides an environmentally friendly mode of transport but is also a source of exercise and relaxation for individuals, friends and families.
Turtle Way Bikeway
The bikeway winds along Boyne River, linking all of the local primary and high schools, shopping centres and community facilities. Sculpture, interpretive signage and amenities can be found along the cycleway, providing an interactive & educational package (orienteering, poetry and visual puzzle) unlocking the mystery of Boyne Rivers inhabiting Turtle, and the "Turtle's Way".
Bike Safety Hints
Helmets must be worn when riding a bicycle
Obey all road rules
Keep at least one hand on the handle bars at all times
No doubling
Always give hand signals before you make any turn or stop
Secure any luggage being carried on a bike
Every bike must be fitted with:

Good brakes
A head light for night riding
A red reflector and tail light
A bell.
Even a young child being carried on a baby seat on the bicycle must wear a helmet. Additional information regarding cyclists and road safety can be found on the Department of Transport and Main Roads website.
Walk and bikeways maps
Gladstone North Gladstone South Benaraby, Calliope Boyne Island, Tannum Sands Agnes Water, 1770, Miriam Vale
Print this page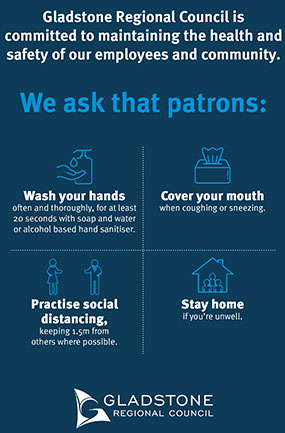 We ask that visitors do not attend our facilities if you; have returned from overseas or a COVID-19 hotspot in the last 14 days, have cold or flu like symptoms, have been in contact with a confirmed case of COVID-19 in the last 14 days.
Return to top
Gladstone Regional Council
Connect, Innovate, Diversify
© 2023 Gladstone Regional Council
All content © Gladstone Regional Council. All Rights Reserved.
Back to the top