Plans and Reports
Annual Report
Corporate Plan
Operational Plan
Search Plans and Reports

Annual Report
The Annual Report is a legislative requirement under the Local Government Act 2009. It is a key tool used to inform our community and stakeholders about Council's performance, achievements and challenges during the past financial year. These areas are measured against objectives set out in our 2021 - 2026 Corporate Plan and 2022 - 2023 Operational Plan and Budget.
Our theme, "Proudly GRC' reflects on 12 months of Council decision making for current and future generations that provides opportunities for an inclusive, engaged community, while continuing to meet people's needs through value for money service.
We welcome your feedback on our Annual Report. Send your feedback to us by completing the online Feedback Form.
Corporate Plan
The Corporate Plan sets out Council's strategic direction.
Operational Plan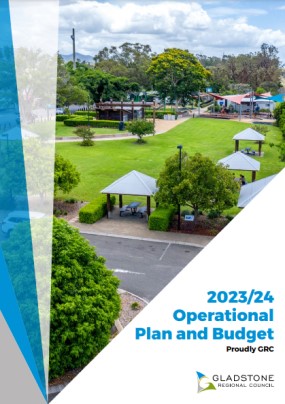 Our Operational Plan shows how we are working to deliver on our five Corporate Plan goals:
Connecting Communities
Delivering Value
Resilient Economy
Our People
Accountable Council.
In 2023/24, we will be delivering nine key initiatives which will enable us to progress the goals in our Corporate Plan and meet the needs of our community.
Our 2023/24 budget supports these deliveries.
Archived reports:
Quarterly Reports
The quarterly reports provide information to Council and our community on the implementation of the Operational Plan 2023/24.
Print this page
Gladstone Regional Council
Connect. Innovate. Diversify.
Return to top
Get in Touch
Opening Hours
8.30am - 5pm Monday to Friday
Postal Address
PO Box 29, Gladstone Qld 4680
Council Offices
101 Goondoon Street, Gladstone Qld 4680
3 Don Cameron Drive, Calliope Qld 4680
41 Blomfield Street, Miriam Vale Qld 4677
Cnr Wyndham & Hayes Avenues, Boyne Island Qld 4680
Rural Transaction Centres
71 Springs Road, Agnes Water Qld 4677
47 Raglan Street, Mount Larcom Qld 4695
Footer Acknowledgement
Gladstone Regional Council would like to acknowledge the Bailai, the Gurang, the Gooreng Gooreng and the Taribelang Bunda people who are the traditional custodians of this land. Gladstone Regional Council would also like to pay respect to Elders both past, present and emerging, and extend that respect to other Aboriginal and Torres Strait Islander people. Learn more about Council's Reconciliation Action Plan (RAP).
© 2023 Gladstone Regional Council
All content © Gladstone Regional Council. All Rights Reserved.
Back to the top