1080 Baiting Program
Calicivirus Baiting Program
Invasive Pest Animal Trapping Program
Indian Myna Bird Control Program
Bounty Program
About invasive pest animals
Feral animals or invasive pest animals pose a major economic, environmental and social threat to the Gladstone region. The main invasive pest animals of concern in the region are:
Help map feral animal sightings in the Gladstone Region. Feral Scan allows the community to map sightings of feral animals and assists Gladstone Regional Council in improving its pest management programs.

Under the Biosecurity Act 2014 (Qld), all landholders have a General Biosecurity Obligation (GBO) to manage the risks that invasive pest animals pose. To assist landholders in meeting this obligation, Gladstone Regional Council provides a number of invasive pest animal programs (listed below).
For further information on any of these programs, please contact Council.
1080 Baiting Program
Sodium fluoroacetate (1080) is a very useful pesticide for the control of pest animals and has been used throughout Australia since the early 1960s. 1080 is the most efficient, humane and species-specific pesticide currently available for declared animal control in Australia. In Queensland, 1080 is registered for use in the control of wild dogs, feral pigs, foxes and rabbits.
Council offers rural landholders the opportunity to participate in 1080 baiting campaigns to control invasive pest animals such as wild dogs and feral pigs on their properties within the Gladstone Region. These campaigns are generally conducted in April/May (early Winter) and again in August/September (early Spring).
Council can also provide 1080 baits to rural landholders outside of the baiting campaign dates if the landholder can demonstrate a 'justifiable need'.
Landholders may apply to Queensland Health for general approval to obtain poisons to control invasive animals. As an an Approved Person, landholders may purchase and store premanufactured baits and Canid Pest Ejectors without the need to contact Council.
Calicivirus Baiting Program
Rabbit Viral Hemorrhagic Disease (VHD), or Calicivirus, is a virus specific to rabbits which works by infecting the lining of the throat, lungs, gut and liver. The virus relies primarily on direct rabbit-to-rabbit contact in order to spread, and therefore, best results are achieved on properties with high rabbit numbers.
Resistance to Calicivirus depends primarily on the age of the rabbit. Therefore, it is better for the virus to be introduced to a population after the rabbits have bred and the young are old enough to be affected by the virus.
Council offers rural landholders the opportunity to participate in a Calicivirus Baiting Program to control wild rabbits on their properties within the Gladstone Region. These campaigns are generally conducted in March/April and again in September/October and are free to participate.
Invasive Pest Animal Trapping Program
Council offers rural landholders the opportunity to loan invasive pest animal traps to control invasive pest animals on their land within the Gladstone region. Trapping is an integral component in invasive pest animal control and can provide suitable control all year round.
Council's invasive pest animal trapping program provides landholders with traps to control:
Feral cats (cage traps)
Wild dogs (foot hold and cage traps)
Indian Myna birds (cage traps)
European fox (cage traps)
Rabbits (cage traps)
Feral pig (cage traps).
Indian Myna Bird Control Program
The Indian myna is a highly intelligent and aggressive bird. If left uncontrolled, Indian mynas will decimate local populations of many of our native species.
View the Biosecurity Queensland factsheet for more information on the Indian myna bird.
Council collaborates with Gladstone based community action groups including the Men's Shed Association and Choice Passion Life (CPL) Disability Services to build Indian myna bird traps.
Council loans Indian myna bird traps free of charge to residents/landholders to control this pest on their property.
The traps are basic cagetraps and require bait / feed to be placed inside the trap. Council will offer a small bounty for each bird humanely caught, provided it is alive.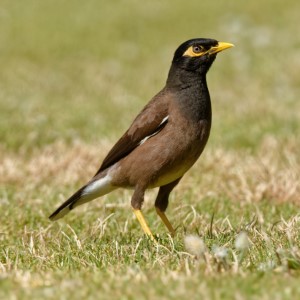 If you would like to participate in Council's Indian myna bird trapping program, contact Council.
Hirer responsibilities / animal welfare
If you hire a trap from Gladstone Regional Council, you will be required to:
Insert bait into the cage and feed the captured birds
Monitor and report captured birds immediately to Council for the prompt collection and humane euthanasia of the birds
Ensure the trapping is humane - no bird or animal should be harmed on entry, birds should only be in the trap for a minimum amount of time, and native birds are to be released unharmed.
Indian Myna Bird – Trapping Tips
Bounty Program
Wild Dog (scalps) and Feral Pig (snouts)
According to the Queensland Biosecurity Act 2014, Wild Dogs, including Dingo (Canis familiaris Dingo) and domestic dogs (Canis familiaris), as well as Feral Pigs (Sus scrofa), fall under the classification of 'restricted' invasive pest animals. Strict rules are in place regarding the relocation, feeding, distribution, sale, or release of these animals into the environment. Additionally, the keeping of dingoes is also prohibited.
Due to their destructive behaviour, Feral pigs are considered pests in both environmental and agricultural contexts. They cause ecological harm by wallowing, rooting for food, and selective feeding. These actions destroy crops, pastures, and native habitats, adversely impacting the flora and fauna. Feral pigs contribute to the spread of invasive species and have the potential to transmit exotic diseases.
Landholders must implement practical and reasonable measures on their properties to mitigate the risks associated with these pests. To raise awareness and assist landholders in pest control, the Council has introduced a bounty program that targets Wild Dog scalps and Feral Pig snouts. This initiative will commence on 1st July 2023 and will be in effect for six months or until the allocated subsidy is depleted.
Handling parts of wild animals, including scalps and snouts, carries disease and hygiene risks. To minimise these risks, Gladstone Regional Council recommends:
Using PPE and gloves.
Storing and transporting wild dog scalps and Feral Pig snouts in sealed plastic bags/containers.
Thoroughly washing hands after handling.
Only Council Authorised Officers should accept and handle these feral animal components.
Checklist for Claiming Scalps and Snouts
Requirements for Wild Dog scalps:
The Wild Dog's scalp must be the entire animal length (in one piece).
You must dry or salt the scalps and place them in a plastic or hessian bag. We will not accept loose, old, or moth-eaten scalps.
If you roll the scalps, present them with the Wild Dog's head on the outside and the tail on the inside to aid identification.
We will pay a bounty of $35 per Wild Dog scalp.
Un-bagged scalps will not be accepted.
The bounty does not include unborn pups cut from the mother.
Requirements for Feral Pig snouts:
Feral Pig snouts must contain the nose's complete end (circular portion).
You must supply Feral Pig snouts in a sealed plastic bag. Including multiple snouts in one bag is acceptable as long as they can be divided, checked, and counted by the receiving officer.
We will pay a bounty of $10 per Feral Pig snout.
The bounty does not include piglets, nor unborn piglets cut from the mother.
Feral Pigs sourced from outside the Gladstone Region are not eligible for reimbursement.
Process for Claiming Bounties
Council officers collect wild dog scalps/ pig snouts every Friday between 7 am to 12 pm, and landholders must contact Council to arrange an appointment.
Administration staff will not handle these items; they will only be accepted with a prior appointment.
Print this page
Gladstone Regional Council
Connect. Innovate. Diversify.
Return to top
Get in Touch
Opening Hours
8.30am - 5pm Monday to Friday
Postal Address
PO Box 29, Gladstone Qld 4680
Council Offices
101 Goondoon Street, Gladstone Qld 4680
3 Don Cameron Drive, Calliope Qld 4680
41 Blomfield Street, Miriam Vale Qld 4677
Cnr Wyndham & Hayes Avenues, Boyne Island Qld 4680
Rural Transaction Centres
71 Springs Road, Agnes Water Qld 4677
47 Raglan Street, Mount Larcom Qld 4695
Footer Acknowledgement
Gladstone Regional Council would like to acknowledge the Bailai, the Gurang, the Gooreng Gooreng and the Taribelang Bunda people who are the traditional custodians of this land. Gladstone Regional Council would also like to pay respect to Elders both past, present and emerging, and extend that respect to other Aboriginal and Torres Strait Islander people. Learn more about Council's Reconciliation Action Plan (RAP).
© 2023 Gladstone Regional Council
All content © Gladstone Regional Council. All Rights Reserved.
Back to the top