Gladstone Region Youth Council
Gladstone Region Youth Council profiles
Schedule of meetings
Minutes of meetings
The Gladstone Region Youth Council acts as a formal advisory committee to Council on youth-related matters within the region.
Youth Council members range from 15 to 24 years old, with some still attending school. Because of this, the Gladstone Region Youth Council's annual term aligns with the Queensland school year.
Youth Council members meet on the first and third Monday of the month, excluding public and school holidays. Members serve an initial one-year term and can seek re-appointment for a subsequent term.
External organisations can consult with Youth Council members and gain feedback on youth-related topics that could provide capacity-building opportunities within their organisation and the community.
Lodge a formal request with briefing notes if a person or organisation wishes to consult the Youth Council. Officers will assess the relevance and appropriateness of the request in consultation with the Youth Council and decide whether the request is granted or refused.
See Also
2023 Gladstone Region Youth Council members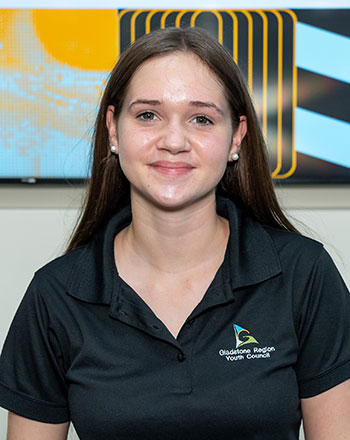 Tayla Bullen
Gladstone Region Youth Council Chairperson
Tayla is in Year 10 at Trinity College. She moved from Perth, Western Australia with her family four years ago. She has grown to love the Gladstone Region for all the fantastic opportunities it has afforded her.
Tayla regularly goes fishing and camping with her family to Yellow Patch, Mast Head and her favourite, Northwest Island. She loves to dance and feels most engaged when she assists her 3–5-year-olds in their ballet classes on Wednesday afternoons. Teaching enables her to pass her love for dance to the younger generation.
She wants to be a Youth Councillor to make Gladstone a place where our youth thrive and work with people willing to make that happen. She wants to become a strong voice for our youth and encourage her generation to be more involved in their community.
---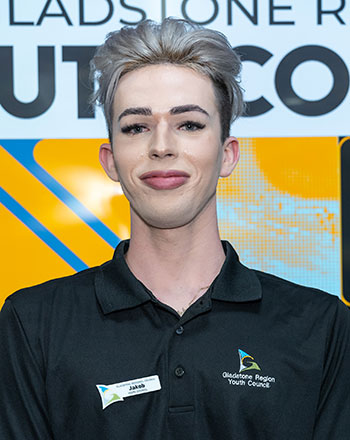 Jakob Humphries
Gladstone Region Youth Council Deputy-Chairperson
Jakob has resided in the Gladstone region as a born and bred local and graduated from Chanel College in 2018. He is passionate about law, psychology, and activism in the fight against bullying.
Jakob works at Gladstone Regional Council as an Executive Assistant for Community Development and Events, but he started his career with Council as a trainee in 2019. He is also a Youth Representative on the Philip Street Precinct Advisory Committee.
Jakob joined the Youth Council to drive change for young people, promoting inclusivity and celebrating what makes an individual unique. In addition to actioning the deliverables identified from the 2022 Youth Summit, he has big goals to unite young people across the region.
---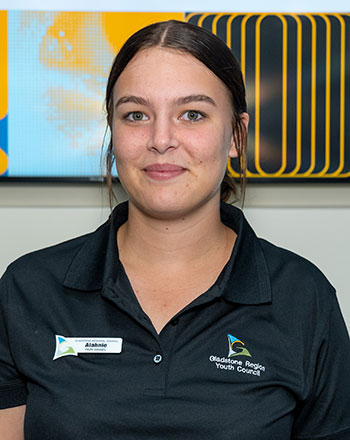 Alahnie Rozycki
Gladstone Region Youth Council member
Alahnie is currently a Year 12 student and captain at Trinity College. She is also part of the SUNS program studying for a Bachelor's in Occupational Therapy. She is a Gladstone native excited to get involved with the community and help people who can't voice their opinions.
Alahnie loves playing sports such as netball because she loves being part of a team. She has played in the Christian School Sport Association of Queensland (CSSAQ) school netball competition in Brisbane. Sports enable her to improve her skills and learn how to cooperate with others.
She wants to be a Youth Councillor to make the Gladstone region a better place for youth and implement new facilities to make the Gladstone region a better place. She wants youth to have a voice and encourages young people to get more involved with things they are passionate about.
---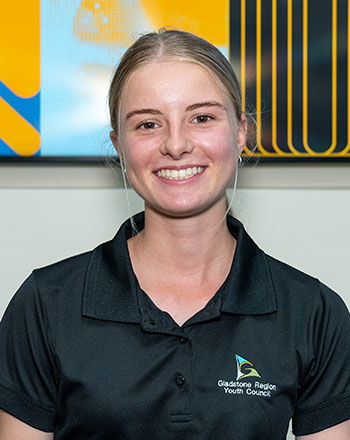 Chloe Sydes
Gladstone Region Youth Council member
Chloe is in Grade 12 and is the school captain at Chanel College. She is also in a school-based traineeship with GAPDL studying a Certificate III in Tourism.
After relocating from Tasmania to the Gladstone Region when she was younger, Chloe has regularly volunteered in the Gladstone community.
Gladstone offers a sense of community and many opportunities for young people, which makes Chloe excited to support the youth and engage with them to make Gladstone an even better place for the youth community.
Becoming a Youth councillor is an excellent opportunity for Chloe to help recognise the youth within the community. Chloe is passionate about supporting her community and including all members. She is excited to be a youth council member because she loves to organise and participate in different events, especially tourism, and hospitality in the Gladstone region. Chloe is passionate about creating long-lasting positive changes in the community.
---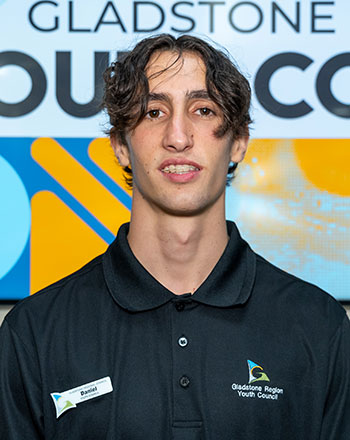 Daniel Trainer
Gladstone Region Youth Council member
Daniel is a year 12 student and current school captain at Rosedale High School. Daniel is passionate about providing opportunities for rural communities and bringing people together for the common good.
Daniel has joined the Youth Council to represent young people in his community and to develop skills and experience. He is passionate about representing young people and ensuring they have a voice in decision-making in areas that concern them.
Daniel loves living in the Rosedale region with its wonderful community, beautiful country living, and amazing beaches nearby. You can often find Daniel surfing at the local beaches or caring for his farm animals on his property in Euleilah. He is passionate about giving back to his community and seeing people thrive in all aspects of life.
---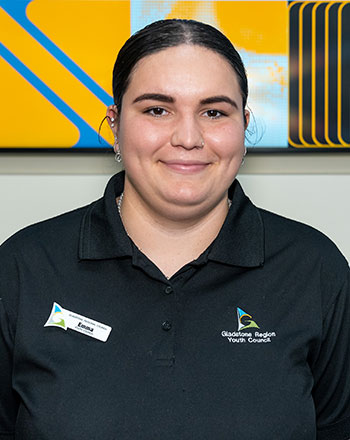 Emma Roulston
Gladstone Region Youth Council member
Emma has lived in the Gladstone region for nearly 12 years since her family moved here from the Hunter Valley.
Emma is completing grade 12 at Tannum Sands State High School and working part-time in retail. She is undertaking work experience with the Marine Pilots team at the Gladstone Ports Corporation. Emma has recently completed Certificate II in Process Plant Operations with EQIP. She is passionate about volunteering in her community, including the Boyne Tannum Hook Up and Seniors Month, to name a few.
She joined the Youth Council because she loves volunteering and believes it is essential to a community. She also wants to have a say for Tannum Sands' youth and hear the thoughts and ideas of other youth around the region.
Emma is very passionate about keeping the environment clean and healthy. She loves the Gladstone region because of the opportunities, great community, and beautiful sights, including the beaches and parks.
---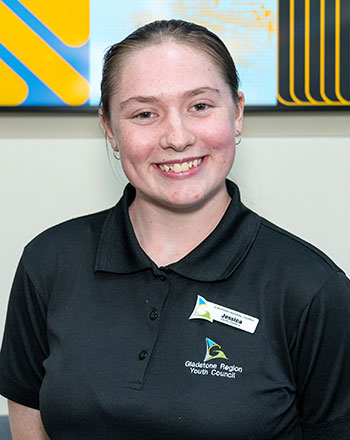 Jessica Toms
Gladstone Region Youth Council member
Jessica works at Endeavour Foundation Industries, is passionate about her community, and looks to contribute in many areas. She focuses on assistance for older people and people with disabilities. She has a unique understanding of people with speech impairments and special needs.
Jessica is interested in bringing more events and entertainment to the Gladstone Region. She is also interested in Australian history, believes our cultural heritage is valuable, and would like to learn more from the indigenous elders to understand their history.
Jessica has returned for a second year at the Youth Council to make a difference in her community and champion solid and inclusive communities. She wants young people to have their voice, share ideas in the community, and have more gathering places for youth.
---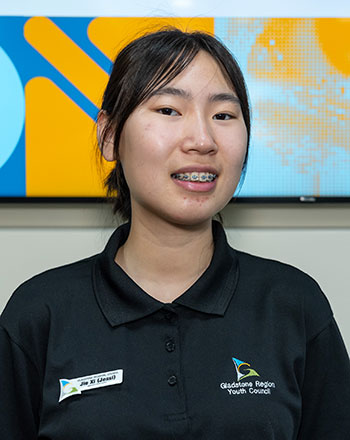 Jiexi Zang
Gladstone Region Youth Council member
Jiexi is a year 11 student attending Toolooa State High School studying towards an ATAR pathway.
Jiexi is a returning member of the 2022 Youth Council. She enjoyed participating in the various community events and opportunities available, which were engaging and memorable, especially Gladstone's first-ever Youth Summit. Being part of the Youth Council has presented many excellent opportunities to share and collaborate on ideas and improvements for this generation of young people.
Jiexi has volunteered at many community events as a part of the Council. She is happy she can assist and give back to her community through volunteering and meeting many new people with similar passions.
---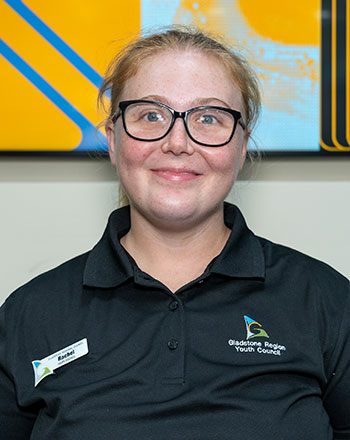 Rachel Smith
Gladstone Region Youth Council member
Rachel is a passionate Gladstone local keen to represent young people in the region. She is passionate about providing pathways and support for those who need it and creating more opportunities for recreation and events for young people in the Gladstone Region.
Rachel works part-time in retail and is involved with the GCLA programs and community performances.
It is Rachel's first year on Youth Council, and she looks forward to learning all there is to know about the Youth Council and making a better community for youth in Gladstone. She loves living in the Gladstone region and spending quality time with her family and friends.
---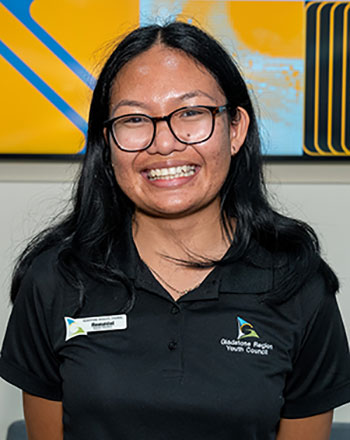 Rommiel Malig
Gladstone Region Youth Council member
Rommiel was born in the Philippines and moved to Australia with her family when she was four. She enjoys Year 12 as Gladstone State High School Captain and studying for an ATAR. Rommiel would like to pursue further education in the STEM field and hopes to encourage more people to be involved in STEM.
Rommiel is employed at Hansen's Grocery Store and loves being part of that community within the Gladstone region.
She has returned to Youth Council for a third year because she loved the role in 2022 and 2021 and the impact made by Youth Council through corroboration and teamwork.
Rommiel is passionate about advocating for a greener future and serving the community in the Gladstone Region. She looks forward to what is to come for Youth Council this year.
---
Georgia Mossman
Gladstone Region Youth Council member
Georgia is a passionate Gladstone local who wants to see great things happen for young people in the region. Georgia is passionate about providing education and experience to young people and encourages all types of employment in the region.
Georgia is a keen advocate for junior sports and ensuring that all are supported in the community to get more people involved in an active and healthy lifestyle. She advocates for the local sailing club, where she often teaches others sailing skills.
Georgia is studying for a nursing degree at CQUniversity and works part-time at the Gladstone Hospital and Edendale.
---
Schedule of meetings
Meetings of Gladstone Regional Youth Council for 2023:
All upcoming events
Location:
Gladstone Region
Gladstone Regional Council is calling for nominations from residents aged 15 to 24 who are interested in being part of the 2024 Gladstone Region Youth Council.

Nominations closed 4pm, 4 Dec 2023.
Print this page
Gladstone Regional Council
Connect. Innovate. Diversify.
Return to top
Get in Touch
Opening Hours
8.30am - 5pm Monday to Friday
Postal Address
PO Box 29, Gladstone Qld 4680
Council Offices
101 Goondoon Street, Gladstone Qld 4680
3 Don Cameron Drive, Calliope Qld 4680
41 Blomfield Street, Miriam Vale Qld 4677
Cnr Wyndham & Hayes Avenues, Boyne Island Qld 4680
Rural Transaction Centres
71 Springs Road, Agnes Water Qld 4677
47 Raglan Street, Mount Larcom Qld 4695
Footer Acknowledgement
Gladstone Regional Council would like to acknowledge the Bailai, the Gurang, the Gooreng Gooreng and the Taribelang Bunda people who are the traditional custodians of this land. Gladstone Regional Council would also like to pay respect to Elders both past, present and emerging, and extend that respect to other Aboriginal and Torres Strait Islander people. Learn more about Council's Reconciliation Action Plan (RAP).
© 2023 Gladstone Regional Council
All content © Gladstone Regional Council. All Rights Reserved.
Back to the top