Register for Warnings on RegionWatch
To sign up please follow these instructions:
Click on 'Register for Warnings'
Complete registration form
Registering for Warnings on RegionWatch is free for users and will allow Council to share emergency news, severe weather events and other public safety alerts with you. Register now and be better prepared and protected for emergencies and disasters.
Information available on RegionWatch includes:
Road Conditions
Weather Warnings
Power Outages
Emergency News
Mapping Information:

Road Status
Flood Cameras
Evacuation Zones/Flooding Levels

Links to important sites and information.
Types of natural disasters
Types of natural disaster events, which may affect the Gladstone Region, include:
Cyclone
A tropical cyclone is a massive collection of whirling wind and dense cloud mass, spiraling clockwise around a central eye of exceptional low pressure. Cyclones can reach winds speeds in excess of 200km/h, and can therefore be extremely dangerous. On average, ten cyclones occur in the Australian region each year. For more information about cyclones, visit the Queensland Government's disasters and alerts web page or the Bureau of Meteorology Queensland cyclone page.
Find out more about how to plan and prepare for tropical cyclone on the Get Ready site. Maritime Safety Queensland has published extreme weather event contingency plans to tell you what to do if a cyclone warning is posted and how to respond to the different warning and/or alert levels, visit their website for more information. Storm Surge
A storm surge is a major risk associated with a cyclone, although, they can also form with low-pressure systems in non-tropical areas. A storm surge is a rise above the normal water level along a shore resulting from strong onshore winds and/or reduced atmospheric pressure. For further information on storm surges please visit the Get Ready website.
To see if your property is at risk of storm surge please view Council's storm surge mapping. There are six storm tide evacuation zones, the Bureau of Meteorology will advise of predicted storm tide height.
Get Ready - Cyclone and Storm surge
Flood
Gladstone has experienced a number of floods over the years and it is a significant risk to the region. There are a variety of sources for flooding.
Creek flooding happens when intense rain falls over a creek catchment. House and street run off, heavy rainfall and the amount of water that existed in the creek are all contributing factors for creek flooding.
River flooding is caused by widespread rainfall over a prolonged period of time throughout the catchment of a river. Once the river is at capacity, excess river will flow over the banks and cause flooding. A major risk to river flooding is the fact it can occur many hours after the rain has stopped.
Overland flow is run-off that travels over land during heavy rainfall events. These usually occur quickly and are affected by localised rainfalls and features including stormwater pipes, roads etc. Therefore, can be unpredictable.
Tidal flooding can come from several sources, such as higher than normal high tide and storm tide.
For current information about flooding go to the Queensland Government disasters and alerts web page or the Bureau of Meteorology Queensland weather and warnings web page. Visit the Queensland Government Get Ready webpage for useful information to assist you to get ready for a flood event.
Bushfire
Bushfires are unmanaged fires that burn uncontrollably and put lives and properties at risk. The severity of the bushfire season can be dependent on how dry the Winter and Spring has been. Not only the fire poses a risk from bushfires, burning materials, smoke, embers and heat can impact the community. The bushfire season vary significantly from year to year, depending on the fuel loads, long-term climate and short-term weather conditions in each area including humidity, frequency of rain.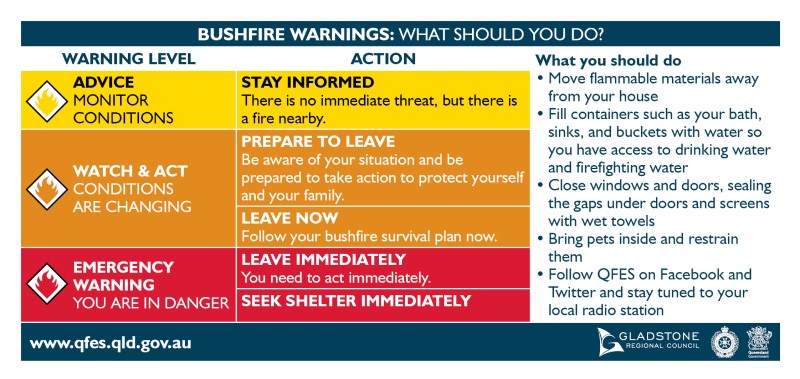 Rainwater tanks
Residents who live in bushfire-prone areas should consider installing a system whereby the pipes that direct the water from the roof to the rainwater tank(s) can be disconnected quickly and easily. This will prevent any material deposited onto the roof surface, as a result of a bushfire, from entering the rainwater tank and impairing the quality of the water stored in the rainwater tank(s).
The disconnection should be made as soon as the threat of a bushfire is apparent to prevent windblown debris entering the tank and so that evacuation (if required) is not hampered. It may also be worthwhile sealing the openings to the tank to prevent contamination. Visit the Queensland Health website for more Staying healthy tips
Staying informed
For all information about current bushfires and incidents go to Queensland Government disasters and alerts web page or the Rural Fire Service Queensland's bushfire incident map. Visit the Queensland Government Get Ready webpage for useful information to assist you to be prepared for bushfires.
Current Bushfires Map Fire and Emergency Services Newsroom
Prepare your emergency plan
In a disaster, high winds, fire, or rising floodwaters can prevent emergency services from reaching you. Debris, damage and fallen power lines can cut road access. Your community and your family could become isolated for days or weeks. This could mean that you are unable to access supplies and may not be able to have immediate access to help. Simply ask yourself, if you were isolated by a disaster right now, are you ready? If the answer is no, it's time to make a plan.
Prepare your emergency plan Emergency Evacuation Information Packs (in Braille)
Prepare your emergency kit
Natural hazards can cause major disruptions to essential services. Two of the most important steps you can take are to prepare your household emergency kit and your evacuation kit.
Your emergency kit should contains a collection of essential items that will equip your household following an emergency . Your kit should be kept in a sturdy, easy to carry bag or waterproof storage box and stored in a safe place that is easy to access.
Prepare your home or business
There are many things you can do to reduce your chances of becoming a victim during a disaster. Taking some simple precautions now before the onset of any natural hazard will help protect you, your family and your property.
Resilient homes Protect your home and contents Protect your pets Protect your business
Get to know your neighbours
Getting to know your neighbours is an important part of preparing your household. Neighbours can help each other in many ways and can include people in your street or community.
It is important to ensure that these relationships are built in times when there isn't a disaster occurring, so that you can then help each other when a disaster strikes. You and your neighbours can work together to prepare your homes, provide shelter and look after pets during a disaster. It's important to get to know your neighbours if you live in an area that can lose communication and internet connection during disaster events, or where you get cut off.
Safety and Education resource library
Information sheets, guides and translated information is available online Safety and Education resource library | Queensland Fire and Emergency Services (qfes.qld.gov.au) including a link to emergency information packs in Braille. These Braille packs have been developed for use across Australia and feature the basic information on making a plan and preparing an emergency kit to foster preparedness in the face of an emergency.
Print this page
Return to top
Gladstone Regional Council
Connect, Innovate, Diversify
© 2022 Gladstone Regional Council
All content © Gladstone Regional Council. All Rights Reserved.
Back to the top