Gladstone Saiki Sister City
Sister City Program
Gladstone Saiki Sister City Advisory Committee
Agendas and Meeting Minutes of the Advisory Committee
Saiki Sister City 25th Anniversary Celebration
Sister City Program
The Sister City movement is a worldwide concept focusing on community values and exchanges that encourage international understanding and appreciation of different nationalities and cultures. The concept originated in the United States of America shortly after World War II. In 1980 the Australian Sister City Association (ASCA) was founded and today there are more than 200 Australian towns and cities with more than 460 overseas affiliations. ASCA is part of an international effort to encourage understanding and co-operation.
The Gladstone Region's Sister City relationship with Saiki City, Japan began more than 25 years ago in 1996 and is centred around a lasting and meaningful relationship that encourages, promotes and enhances the connection with Saiki City
A Gladstone Regional Council delegation travelled to Japan in July 2019 with the Mayor speaking at many events and highlighting tourist attractions, business and trade opportunities and similarities between the two areas.
The exchange of knowledge, culture and education has been invaluable over the years with both Gladstone and Saiki benefiting from this long stand friendship.
Saiki City, in Oita Prefecture, is located on Japan's southern island of Kyushu, 780km south-west of Tokyo and 150km east of Fukuoka City. It is the fifth largest city in the eastern prefecture of Oita and the centre of the south-east region of Oita. Saiki is pleasantly located on Saiki Bay, part of the Bungo Channel that feeds the Inland Sea of Japan (Setonaikai).
Situated on the coastline Saiki experiences mild weather all year round due to the influence of the warm currents along the Bungo Channel. Rainfall is most prevalent from June to early July, and the chance of snow is limited.
Demographics of Saiki include:
Area 197 km2
Population 51,675
Number of workers 25,098
Households 19,426
Schools 21
Businesses 3324.
Major Industries include:
Local produce, mainly strawberries
Cement
Shipbuilding
Fridges/Freezers
Pearls
Roses
Dried Fish
Yellowtail.
Gladstone – Saiki Sister City Events:
Saiki Children's Art Exhibitions
Intercity Images
Saiki Children's Day
Gladstone – Saiki Photographic Exchange
Multicultural Festival Sister City Stall
Book Exchange Program
School Exchange Visits
Mayoral, Councillor and 'Get to know Gladstone' Visits.
Please contact Council's Council's Community and Neighbourhood Centre on (07) 4976 6300 or email info@gladstone.qld.gov.au for more information.
Gladstone Saiki Sister City Advisory Committee
As part of the Sister City program Gladstone Regional Council support the Gladstone Saiki Sister City Advisory Committee as a recognised advisory committee to Council. The committee was first established in 1997 with the purpose to provide Council with strategic advice and support on ways to enhance the sister city program and relationship. The Committee undertakes the facilitation and organisation of arts, cultural, social and recreational exchanges and activities with the objective of nurturing and fostering the sister city relationship, celebrating diversity within the Gladstone Region and creating a more connected community. The committee meet once a month from February – November inclusive.
Agendas and Meeting Minutes of the Advisory Committee
Saiki Sister City 25th anniversary celebration
Commemorative Shorebird artwork
On 4 September 2021, the Gladstone Region and Saiki City celebrated the 25th anniversary of the signing of the declaration of friendship between the two cities.
To commemorate this milestone, three stainless steel shorebird artworks have been installed at the entrance of the Gladstone Regional Council Civic Centre.
The three stainless-steel bird shapes created by Margaret Worthington and Clive Rouse, represent three shorebird species that are seen in the Gladstone Harbour. A Bar-tailed Godwit, Far Eastern Curlew and Grey-tailed Tattler are identified by their beak shape in this contemporary work. Shorebirds are used to symbolise how people of Australia and Japan are connected by this amazing migration.
These birds can travel over 13,000km during migration and are known to travel via Japan on their trip South.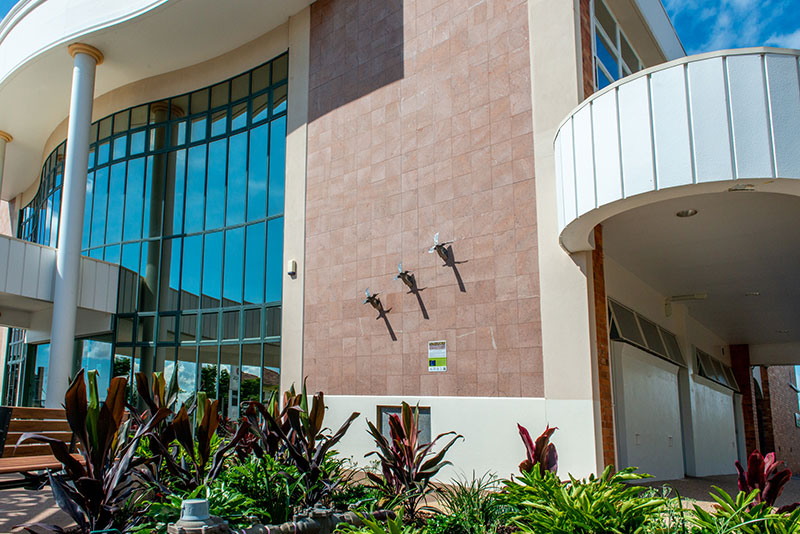 A number of Shorebird monitoring programs exist.
For more information on Shorebirds please visit:
The designer Margaret Worthington is a keen member of both Birdlife Capricornia and the Queensland Wader Study Group and participates in bird counts in this region.
Further examples of her work visit www.margaretworthington.com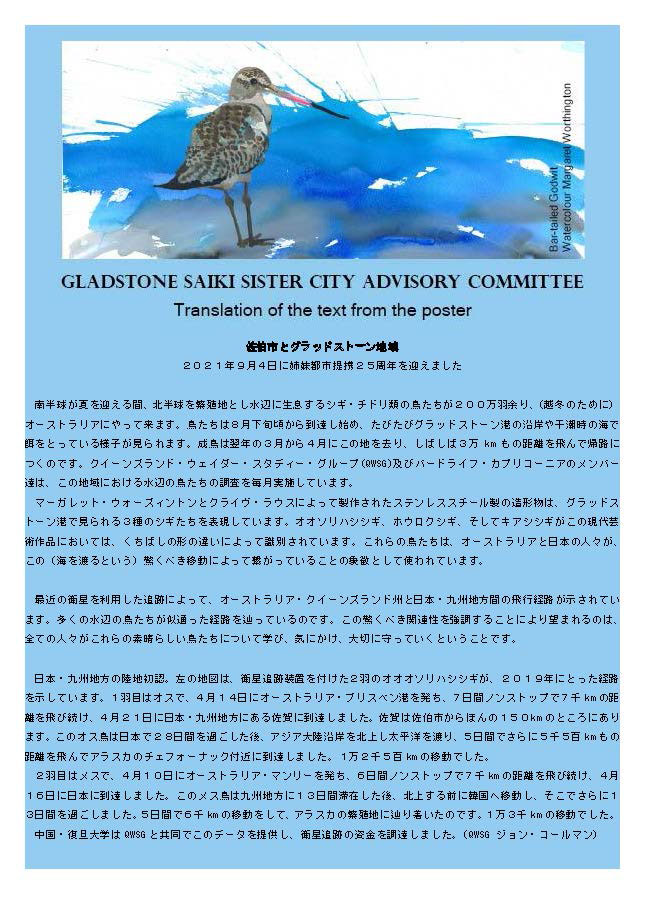 Print this page
Return to top
Gladstone Regional Council
Connect, Innovate, Diversify
© 2023 Gladstone Regional Council
All content © Gladstone Regional Council. All Rights Reserved.
Back to the top