Pools and Aquatic Centres
Whether you're after fun or fitness, Gladstone Regional Council's Aquatic Centres offer a range of programs and services, from learn to swim classes to aqua therapy in Gladstone and Mount Larcom.
The Gladstone Aquatic Centre, is a thriving hub of community activity and leisure facilities.
Upgrade works at the facility are underway and will continue through 2023-2024.
Generally, Gladstone Aquatic Centre features include:
Outdoor 8 Lane 50m Pool
Indoor 6 Lane heated 25m pool – with ramp access
Outdoor aquatic play park
Electronic Timing
Aqua Cafe
Reception
Giant Pool Inflatables
All year-round access.
Contact Gladstone Aquatic Centre for further information (Bookings, lessons, opening hours)
Phone: (07) 4972 6822
Email: gladstone@bluefit.com.au
Address: 60 Tank Street, West Gladstone
For opening hours, pricing, and class information:
Gladstone Aquatic Centre Upgrade
Gladstone Aquatic Centre Rejuvenation project completed works have included electrical upgrades and investigation and minor works on the 50m pool, testing of the pool structure, minor tile and crack repairs, and installation of FINA-approved starting blocks.
Works in 2021 included installation of site boundary fencing, filtration plant upgrades, Aquatic Play Park upgrades, Building Renewals included amenity upgrades and addition of a new Accessible Adult Change Room and external pool lights replacement.
Works also included Stage 1 Building Renewals, with upgrades to amenities in the 25m pool area and Stage 2 Building Renewals including upgrade to facilities and main amenities building. This included improved change rooms with two new Disability Discrimination Act (DDA) accessible facilities and three new family change rooms.
Works in 2022 have included new roof structures over main amenities, new awning to the existing kiosk and front entrance upgrade. Stage 3 Building Renewals including 25m pool upgrades, building enclosure works and upgrades to the 25m pool water heating system were completed with work then on the 50m grandstand and shade sail upgrades.
Current facility interruptions
Gladstone Regional Council is being assisted to deliver this improved facility for the region with:
- $2.4m State Government funding, through the 2021-24 Works for Queensland Program,
- $1.2m State Government funding, through the COVID Works for Queensland Program, and
- $1.6m through the Federal Government's Local Roads and Community Infrastructure Program.
Mount Larcom Swimming Pool
The best kept secret in Mount Larcom, the local facility boasts an outdoor 6 lane 25m swimming pool, children's wading pool, amenities, pool kiosk and plenty of green space for picnics and lazing around.
BlueFit offers Learn to Swim classes and Aqua Fit sessions.
Usually, the facility is open to the public from September to March each year 5 days per week. Open annually for summer at the beginning of the September school holidays and closing for winter at the end of the April school holidays. This year the reopening will occur in December to allow for maintenance works to occur.
View Media release View Project information
Contact Mount Larcom Swimming Pool for further information (Bookings, lessons, opening hours)
Phone: (07) 4975 1185
Email: mountlarcom@bluefit.com.au
Address: The Narrows Road, Mount Larcom
For opening hours, pricing, and class information:
Calliope State School Pool
The Calliope State School Swimming Pool is located in Stirrat Street, Calliope, and is not a Council owned nor operated pool.
Please phone Calliope State School for information on (07) 4975 8333 during school terms.
Gladstone South Swimming Club leases the Calliope State School Pool from the Education Department and opens the facility outside of school hours.
View the Calliope Pool Facebook page for opening hours, learn to swim classes, and fees.
Opens annually for summer at the beginning of the September school holidays and closes for winter.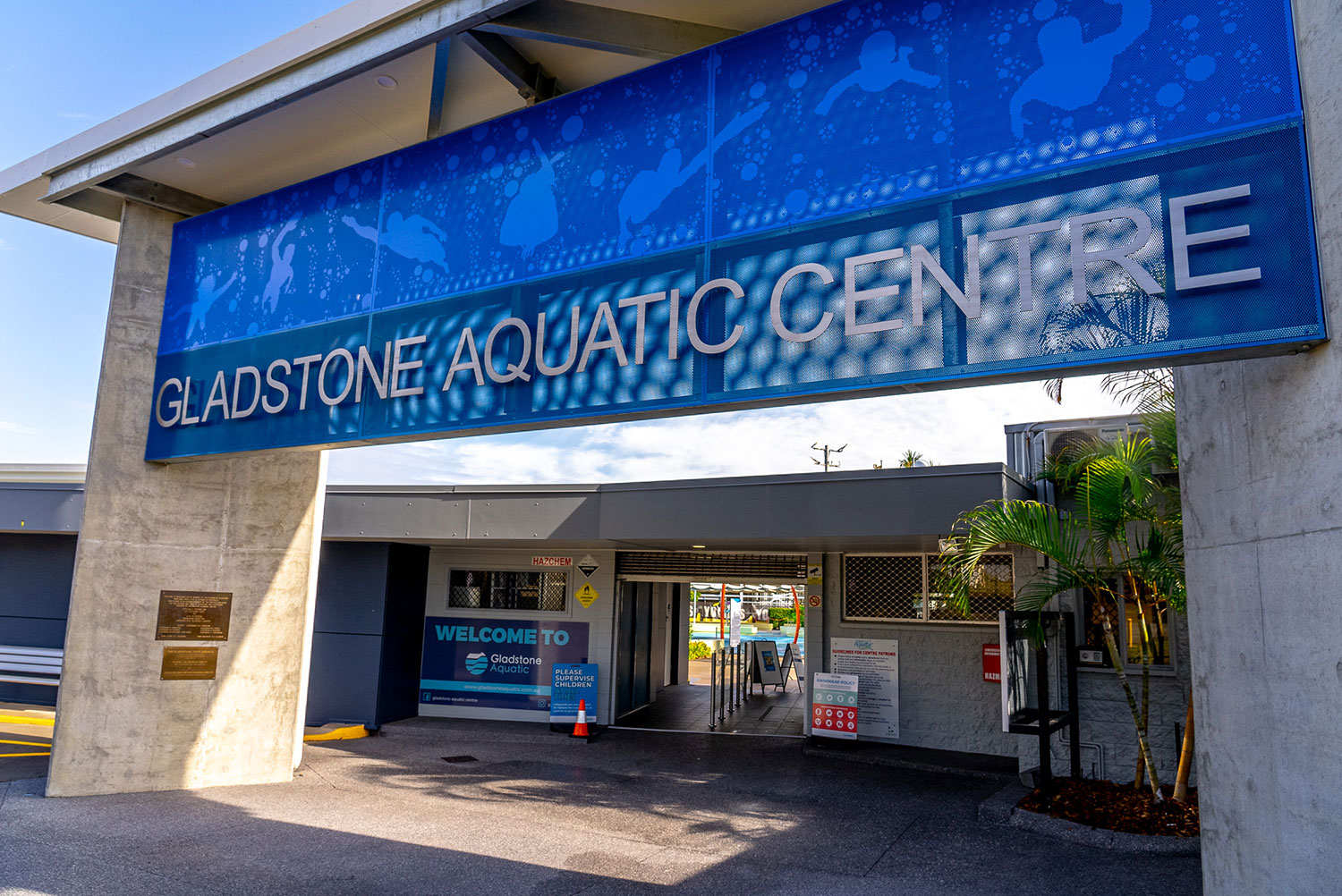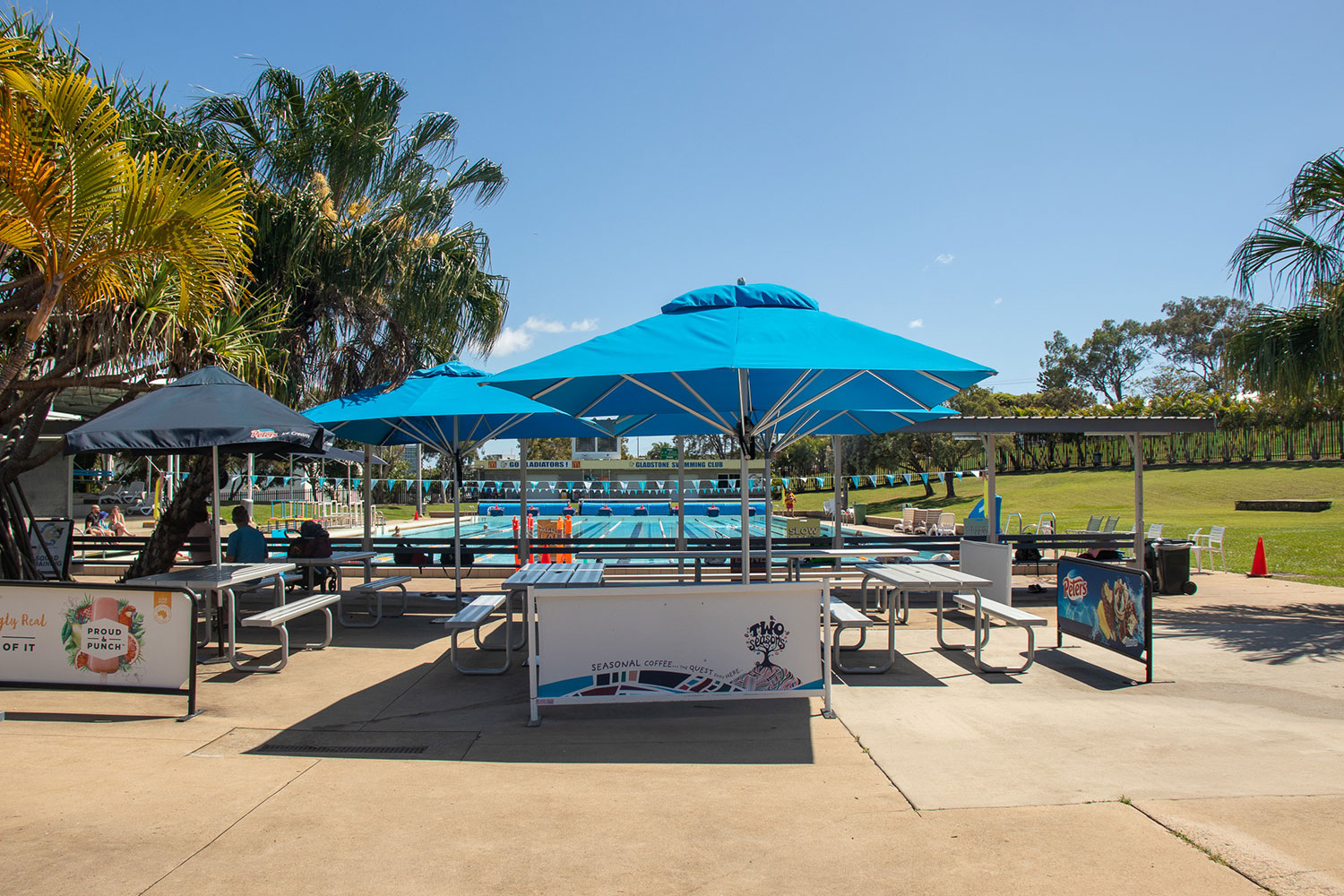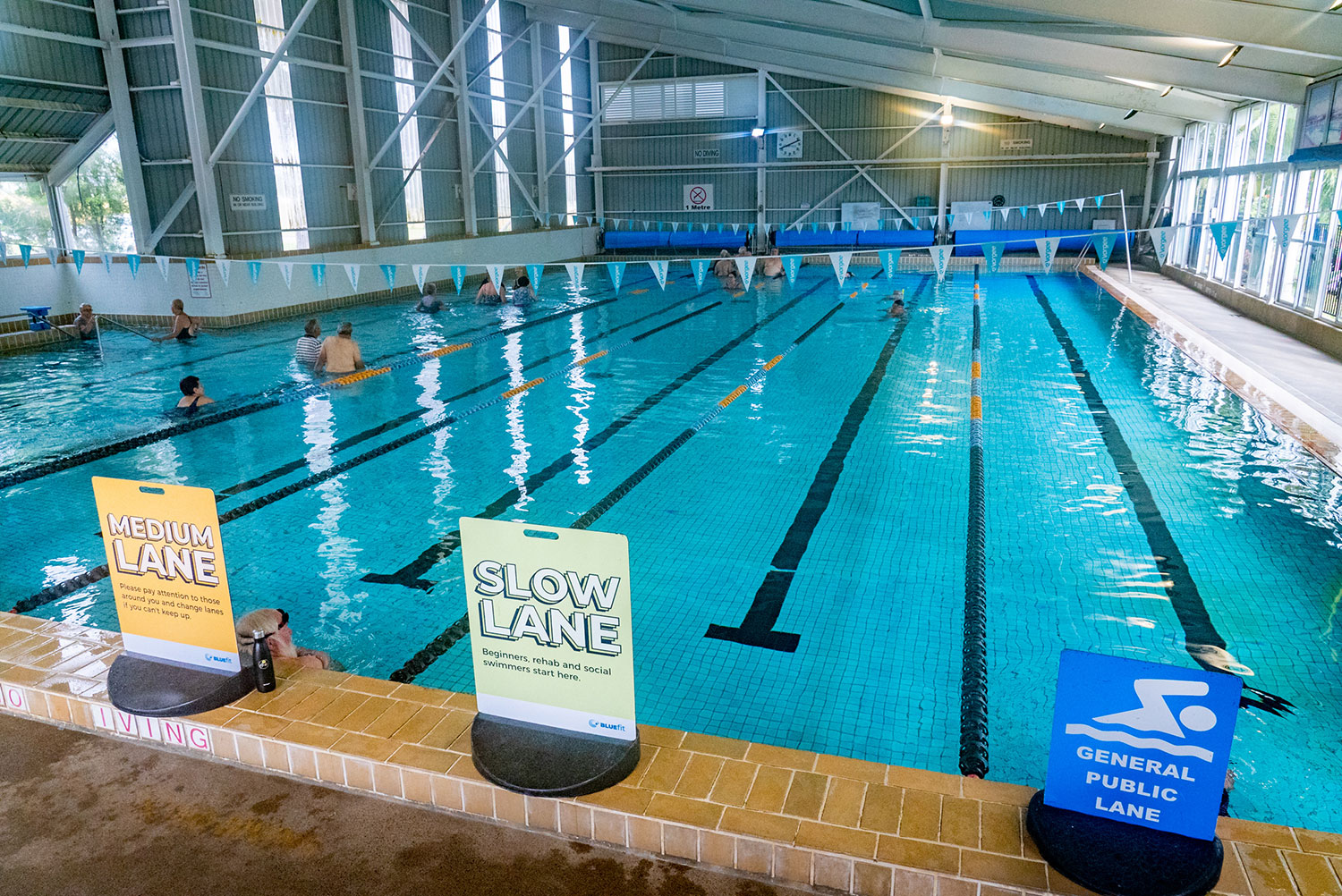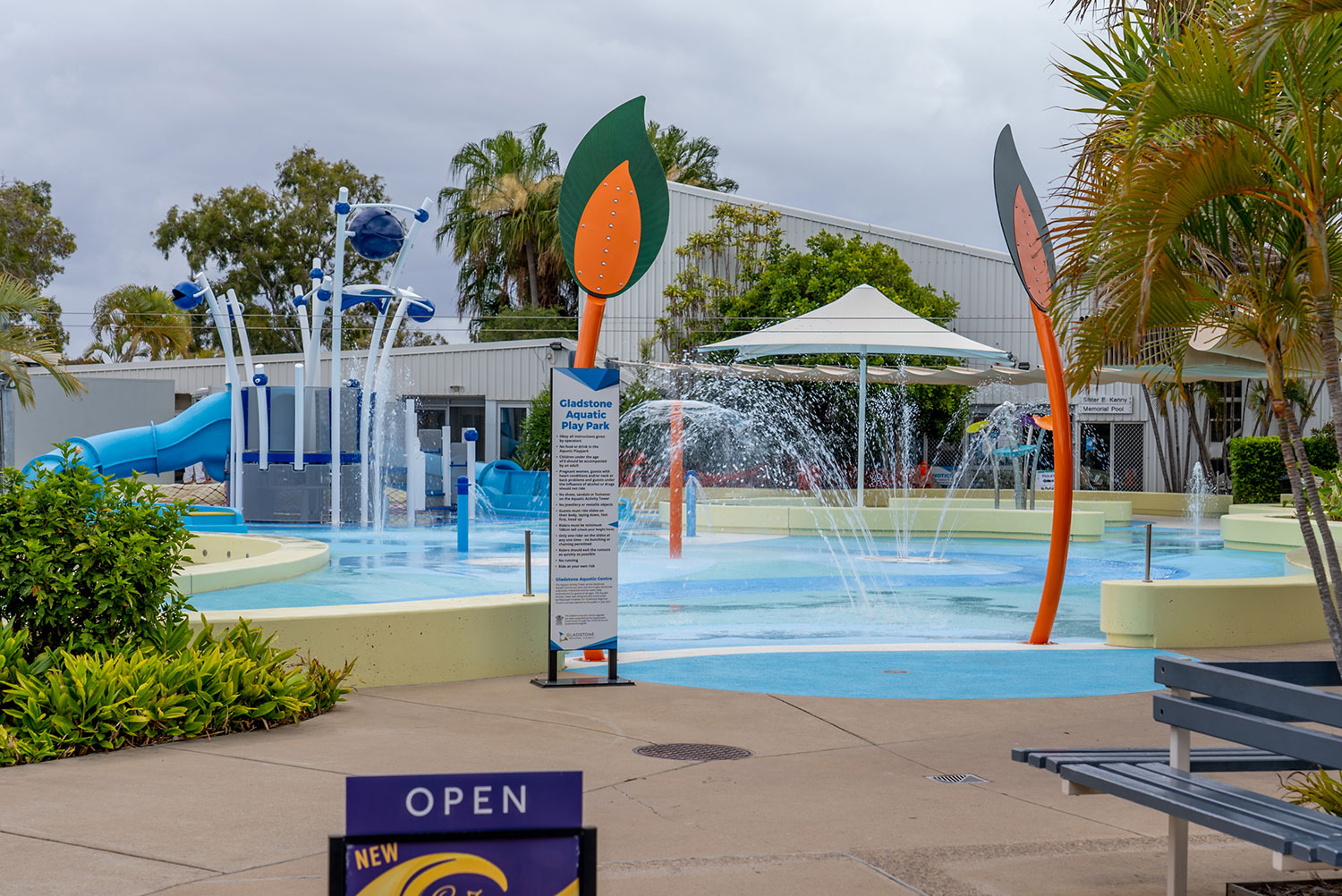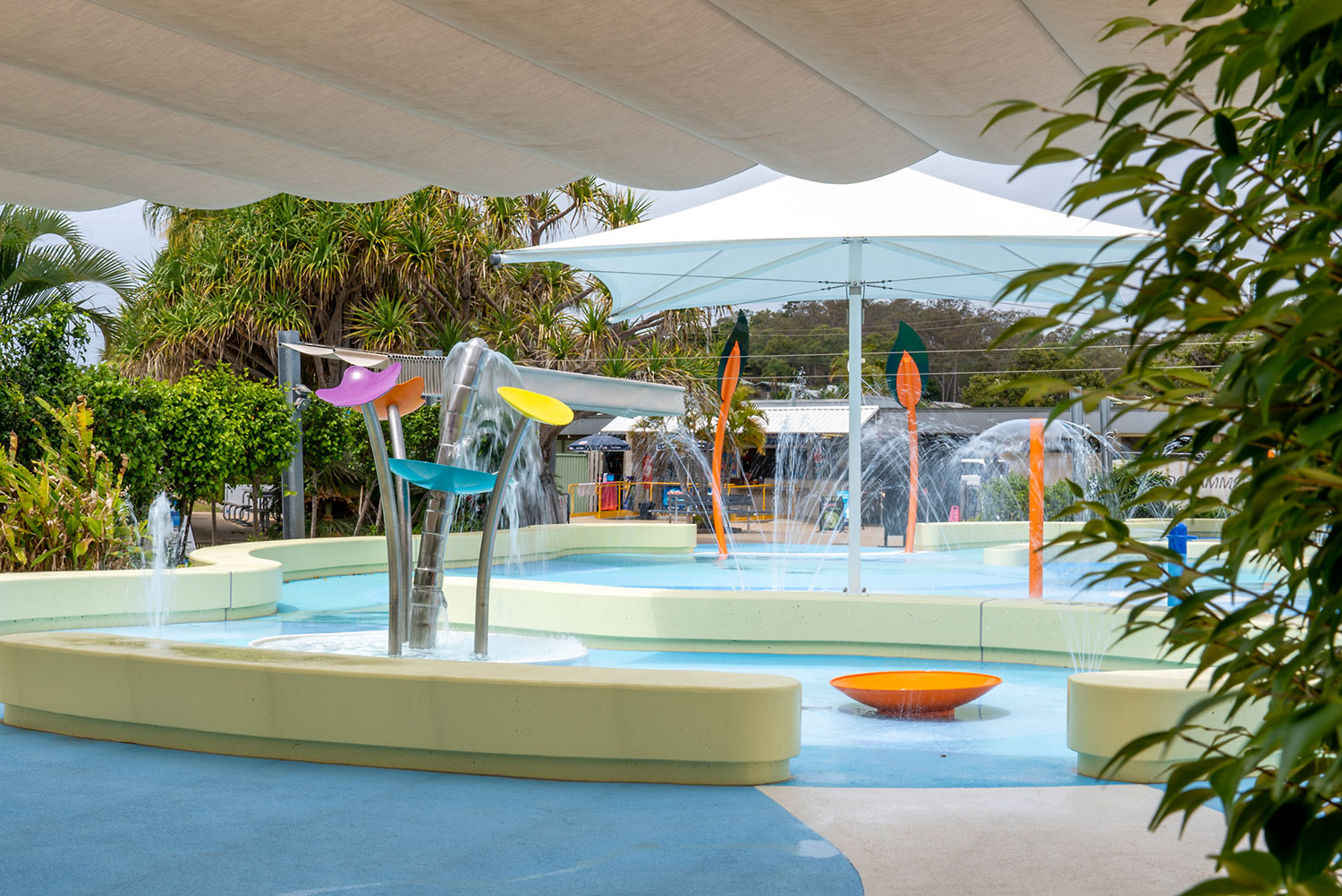 Public Art | Nala-gungngoor
Over the past five years Council has made formal commitments with our Reconciliation Action Plan (RAP) and we are committed to keep the momentum moving. As we embark on our next RAP, a key part of delivering this Plan is working together with local First Nations people. Local First Nations artist Jarrod Beezley was successful in working with Council to deliver a bespoke piece of public art within the 25 metre pool at Gladstone Aquatic Centre.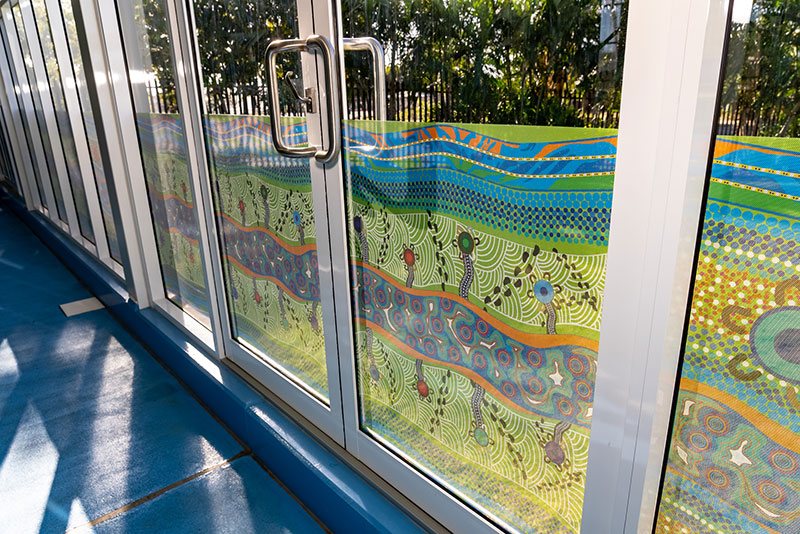 Nala-gungngoor
(Water hole in Kabi language)
Jarrod Beezley, 2022
This art piece is a depiction for the Gladstone Aquatic Centre.
The story begins with a representation of the original 'Baths' that started at the bottom of Goondoon Street, including the picturesque Lady Nelson Park and Gladstone Harbour Board fountain on the corner of Lord and Goondoon Streets. This was previously the site of the Gladstone Municipal baths, built in 1936 and was saltwater baths then eventually turned to freshwater baths. From there many other 'Baths' were constructed around Gladstone Region, Toolooa Street baths in 1864, and the Auckland baths near Friends Victoria Store in 1870s.
Today the Gladstone town pool, built in 1936, has become what it is today; `The Gladstone Aquatic Centre'.
The timeline within the artwork acknowledges some of the different community aquatic centre activities that are available to the Gladstone community:
Aquatic fitness activities
Learn to swim classes
Outdoor water park
Heated Pool
Sunset-closing time, a time when families return to their homes with new memories and stories of Gladstone Aquatic Centre.
I chose to use bright colours to reflect the environment and community feeling of the Gladstone Aquatic Centre, as a family-oriented community place, where people can have fun and enjoy family time together.
I used green as a backdrop so people looking out from the 25-metre heated pool get the sense of feeling that they're not enclosed but feel like they're looking onto the grass area outside, giving it an open feeling.
This artwork reflects on the Gladstone Region's rich past while celebrating its bright future.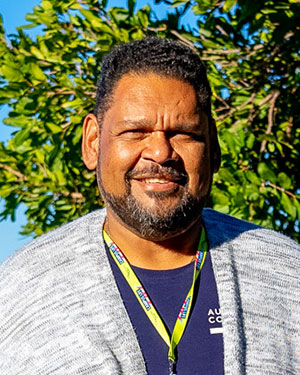 Jarrod Beezley is a descendant of the Kabi Kabi and Bundajalung people from the South East Coast of Queensland. He is also Koori descendant (Beezley) but it is unknown from where. They are fresh/saltwater people. Jarrod was born in Gladstone, Queensland, on Bailai, Gurang, Gooreng Gooreng and Taribelang Bunda Country known as Port Curtis Coral Coast (PCCC).
Jarrod started painting in his early 20's, inspired by his father. His father was a big influence in his life and encouraged him to learn more about Aboriginal Art. Since then, Jarrod has researched the many forms and styles of Aboriginal arts, and more, his people's art forms and styles.
Over the years, Jarrod's art and style has evolved and matured into what it is today. He has developed a strong saltwater theme and style which reflects the spiritual connection to the coastal region of South East hinterlands and coastal regions of Tweed Heads.
As an artist, Jarrod has gained wisdom, knowledge and understanding of who he is as an Aboriginal artist and as an Aboriginal Man (Kabi Kabi/Bundjulang). This has helped him to define who he is as an artist, a storyteller and as a man of faith, connecting him spiritually to Biral (God) and the land from which we come.
Further examples of his work visit www.facebook.com/amarrookennaart
Print this page
Gladstone Regional Council
Connect. Innovate. Diversify.
Return to top
Get in Touch
Opening Hours
8.30am - 5pm Monday to Friday
Postal Address
PO Box 29, Gladstone Qld 4680
Council Offices
101 Goondoon Street, Gladstone Qld 4680
3 Don Cameron Drive, Calliope Qld 4680
41 Blomfield Street, Miriam Vale Qld 4677
Cnr Wyndham & Hayes Avenues, Boyne Island Qld 4680
Rural Transaction Centres
71 Springs Road, Agnes Water Qld 4677
47 Raglan Street, Mount Larcom Qld 4695
Footer Acknowledgement
Gladstone Regional Council would like to acknowledge the Bailai, the Gurang, the Gooreng Gooreng and the Taribelang Bunda people who are the traditional custodians of this land. Gladstone Regional Council would also like to pay respect to Elders both past, present and emerging, and extend that respect to other Aboriginal and Torres Strait Islander people. Learn more about Council's Reconciliation Action Plan (RAP).
© 2023 Gladstone Regional Council
All content © Gladstone Regional Council. All Rights Reserved.
Back to the top