Pools and Aquatic Centres
Whether you're after fun or fitness, Gladstone Regional Council's Aquatic Centres offer a range of programs and services, from learn to swim classes to aqua therapy in Gladstone and Mount Larcom.
Gladstone Aquatic Centre Upgrade
Gladstone Aquatic Centre Rejuvenation project completed works have included electrical upgrades and investigation and minor works on the 50m pool, testing of the pool structure, minor tile and crack repairs and installation of FINA-approved starting blocks.
Works in 2021 included installation of site boundary fencing, filtration plant upgrades, Aquatic Play Park upgrades, Building Renewals included amenity upgrades and addition of a new Accessible Adult Change Room and external pool lights replacement.

Works also included Stage 1 Building Renewals, included upgrades to amenities in the 25m pool area and Stage 2 Building Renewals included upgrade to facilities and main amenities building. Improved change rooms with two new Disability Discrimination Act (DDA) accessible facilities and three new family change rooms.
Works in 2022 include new roof structures over main amenities, new awning to the existing kiosk and front entrance upgrade. Stage 3 Building Renewals include 25m pool upgrades, building enclosure works and upgrades to the 25m pool water heating system, 50m grandstand and shade sail upgrades.
50M POOL ADDITIONS
Additions to the 50m pool occurred, including installation of a pool hoist, pool step/ramp and temporary heating to improve mobility and access for pool patrons to use the 50m pool in comfort.
WHAT'S HAPPENING?
50m Grandstand and shade sail upgrades: Work is progressing well on blasting and painting of the existing grandstand, replacement of roof sheeting and full replacement of the existing shade sail structure with a new shade sail structure. These works also include some minor electrical upgrades to the grandstand.
25m pool heating upgrade: System changes using the recently installed heating system that heated the 50m pool during the 25m pool upgrades have been implemented. These works will be finalised during November 2022.
WHAT'S NEXT?
50m pool relining: This package of work forms part of the Stage 3 Rejuvenation project and will involve complete replacement of 50m pool tiles. These works are planned for Winter 2023.
Gladstone Regional Council is being assisted to deliver this improved facility for the region with:
- $2.4m State Government funding, through the 2021-24 Works for Queensland Program,
- $1.2m State Government funding, through the COVID Works for Queensland Program, and
- $1.6m through the Federal Government's Local Roads and Community Infrastructure Program.
Current facility interruptions
Gladstone Aquatic Centre
The Gladstone Aquatic Centre, is a thriving hub of community activity and leisure facilities.
Upgrade works at the facility are underway and will continue through 2023.
Generally, Gladstone Aquatic Centre features include:
Outdoor 8 Lane 50m Pool
Indoor 6 Lane heated 25m pool – with ramp access
Outdoor aquatic play park
Electronic Timing
Aqua Cafe
Reception
Giant Pool Inflatables
All year-round access.
For further information
Phone: (07) 4972 6822
Email: gladstone@bluefit.com.au
Address: 60 Tank Street, West Gladstone
For opening hours, pricing and class information:
Mount Larcom Swimming Pool
The best kept secret in Mount Larcom, the local facility boasts an outdoor 6 lane 25m swimming pool, children's wading pool, amenities, pool kiosk and plenty of green space for picnics and lazing around.
BlueFit offers Learn to Swim classes and Aqua Fit sessions.
Usually, the facility is open to the public from September to March each year 5 days per week. Open annually for summer at the beginning of the September school holidays and closing for winter at the end of the April school holidays.
Contact Mount Larcom Swimming Pool for further information
Phone: (07) 4975 1185
Email: mountlarcom@bluefit.com.au
Address: The Narrows Road, Mount Larcom
For opening hours, pricing and class information:
Calliope State School Pool
The Calliope State School Swimming Pool is located in Stirrat Street, Calliope, is not a Council owned or operated pool. Please phone Calliope State School for information on (07) 4975 8333 during school terms.
CK Aquatics has been successful with securing the Lease on the Calliope State School Pool and re-opened the facility on 5 October 2020. View Facebook page for opening hours, learn to swim classes and fees.
Opens annually for summer at the beginning of the September school holidays and closes for winter.
Print this page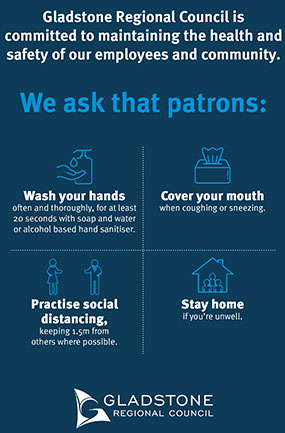 We ask that visitors do not attend our facilities if you; have returned from overseas or a COVID-19 hotspot in the last 14 days, have cold or flu like symptoms, have been in contact with a confirmed case of COVID-19 in the last 14 days.
Return to top
Gladstone Regional Council
Connect, Innovate, Diversify
© 2023 Gladstone Regional Council
All content © Gladstone Regional Council. All Rights Reserved.
Back to the top