Volunteering
Do you love the outdoors and community work? You can combine both as a Gardens volunteer doing activities like:
If you want to join the Botanic Gardens' Volunteer Program, we review applications annually. You can express your interest in becoming a volunteer by filling out our online application form. If you have any ideas to bring to our team, please contact us on (07) 4971 4444.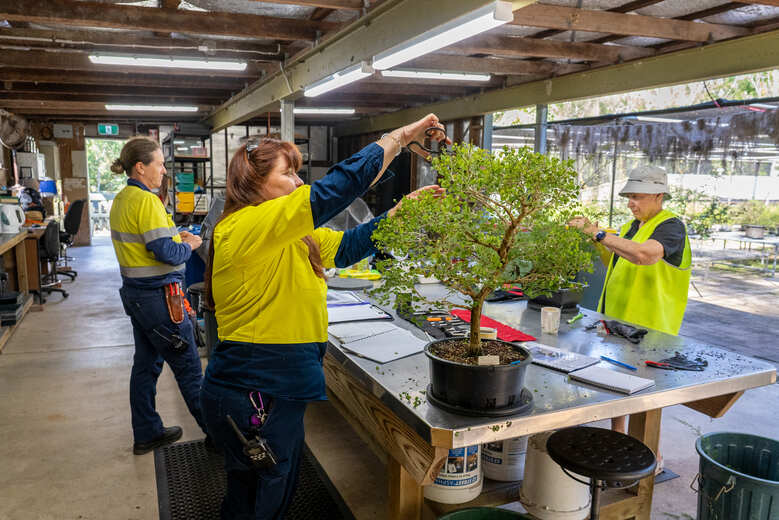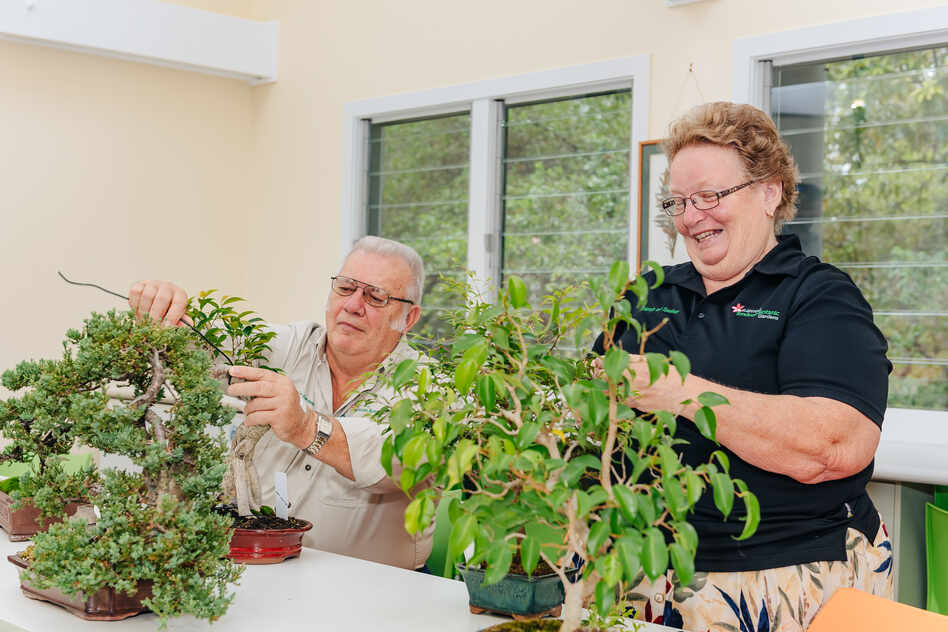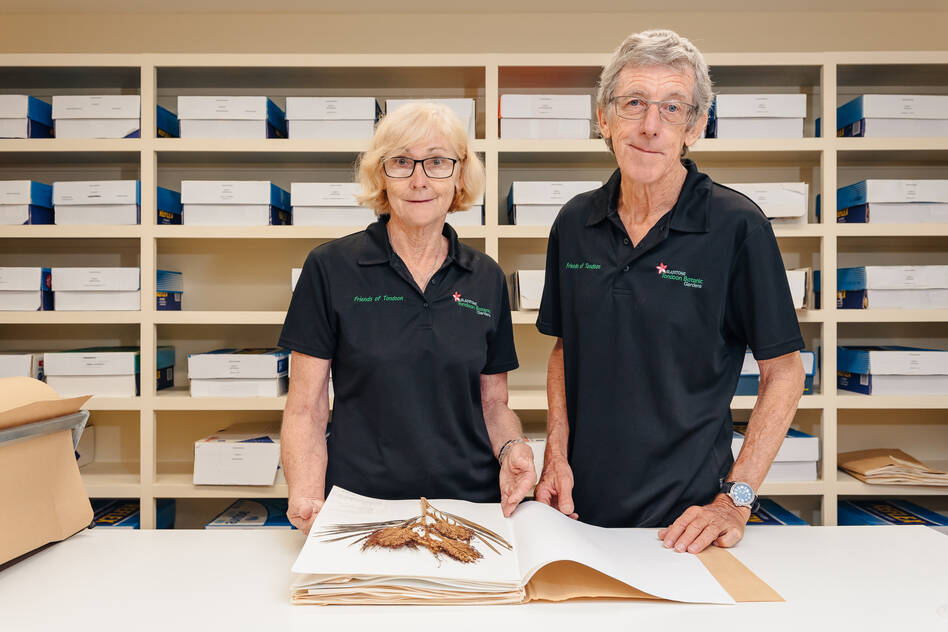 Botanical Besties
Volunteering can be a great way to meet new friends, gain new skills, explore new hobbies, maintain a healthy lifestyle, or simply explore nature. As a Friend of the Gardens, you will participate in many areas of the Gardens' life, including:
Guided tours for visitors and schools
Children's activities (e.g., school holiday activities, Lessons in the Gardens)
Conservation
The herbarium
Bonsai creation, lessons and sessions
Community events
Field trips to collect plant specimens for the Gardens.
There are many events that take place in the Gardens throughout the year. Friends of the Gardens provide valuable assistance in helping make these events a success.
Conservation Companions
Join the Gardens' Friends of Conservation Volunteers and work with the team to help ensure the longevity of Gladstone's local flora and fauna. The group develop activities across the region that promote sustainability and biodiversity within our unique natural environment.
As a Friend of Conservation, you will volunteer and provide help with nursery duties such as plant propagation, seed collection and controlling pests and diseases. Tree planting, weed removal, erosion control and dune restoration can also be part of your volunteer duties.
Training and support will be provided to interested parties.
Bonsai Buddies
Bonsai is the ancient art of shaping trees into potted miniatures that mirror majestic full-size trees.
Tondoon Botanic Gardens has been home to the Friends of Bonsai group since for many years.
Participants and volunteers can learn about how to create a Bonsai, meet new people and help throughout the year at various Bonsai themed events held at, and on behalf of, the Gardens.
You can participate in a range of Bonsai themed activities, including creating your own Bonsais and helping to maintain established Bonsais that are part of the Gardens' collection.
Tour Guides
Become a tour guide for the Gardens and help us to display the world-class native plants and habitats on display. Gardens tours enhance a guest's experience by providing visitors with a wealth of knowledge about Queensland's native plant-life and the Gardens. You can inform guests of scientific facts about a variety of plants and animals, as well as educating visitors about our history and stories behind each native plant. Help us to accommodate the interests of each group and focus their tour on topics they find most interesting. All volunteers are provided with the appropriate training and support so that all you become a confident and capable tour guide.
Herbarium Helpers
Become part of Tondoon Botanic Gardens' legacy and contribute to the research and documentation of our unique Curtis Coast flora. By becoming part of the Herbarium volunteer team, you will gain hands-on experience with local plants. The Gardens' Curator leads regular field trips to collect new plant specimens and helps you to learn more about the unique ecosystems in the region. Herbarium volunteers play a vital role in drying and pressing specimens, recording plant data, and assisting with local plant identification.
Children's Activities
Teach the up-and-coming generation about the importance of our Botanic Gardens. You can volunteer to help pass on knowledge, teaching children about the plants, wildlife and eco systems. Children enjoy activities as part of their school curriculum and with their own families in their own time. Volunteers provide a great wealth of knowledge and assistance to the children. So, if you enjoy education and play, this is the volunteer group for you.
School Holiday Activities
During the school holidays, the Gardens host various activities for children of all ages to enjoy.
Events are hosted by individuals, groups, parents and local artists. As a volunteer, you can provide event assistance, participate in, or even host events during school holidays.
Lessons in the Gardens
This newly updated program allows students to experience the Gardens as an outdoor classroom. Each lesson is unique and provides us a memorable way to connect children with nature.
Community Events at the Gardens
Each year, Tondoon plays host to various events including EcoFest, Luminous and various other community-led initiatives. Visit the What's On page to find out more.
Print this page
Gladstone Regional Council
Connect. Innovate. Diversify.
Return to top
Get in Touch
Opening Hours
8.30am - 5pm Monday to Friday
Postal Address
PO Box 29, Gladstone Qld 4680
Council Offices
101 Goondoon Street, Gladstone Qld 4680
3 Don Cameron Drive, Calliope Qld 4680
41 Blomfield Street, Miriam Vale Qld 4677
Cnr Wyndham & Hayes Avenues, Boyne Island Qld 4680
Rural Transaction Centres
71 Springs Road, Agnes Water Qld 4677
47 Raglan Street, Mount Larcom Qld 4695
Footer Acknowledgement
Gladstone Regional Council would like to acknowledge the Bailai, the Gurang, the Gooreng Gooreng and the Taribelang Bunda people who are the traditional custodians of this land. Gladstone Regional Council would also like to pay respect to Elders both past, present and emerging, and extend that respect to other Aboriginal and Torres Strait Islander people. Learn more about Council's Reconciliation Action Plan (RAP).
© 2023 Gladstone Regional Council
All content © Gladstone Regional Council. All Rights Reserved.
Back to the top