Parks
Regional parks guide
Liberty Swing
Fitness equipment
Park listing
Parks scheduled works
Book a park
The Gladstone Region is well served by an extensive network of parks and recreation areas just waiting to be discovered, so pack a picnic, grab some friends and family and enjoy the region's natural areas.
The Park listing can provide you with information on Council's more popular parks and the facilities that are available at each location. Facilities such as playground equipment, BBQs, natural areas, shelters and picnic areas are free for the public to use on a shared basis and cannot be reserved.
The region's central location means that parks range from beach locations to river foreshores, bush reserves and botanical collections. Discover what your 'Region of Choice' has to offer by clicking on the images below.
Council has released a Regional Parks Guide, a glossy brochure detailing everything you need to know about Gladstone Region's major parklands.
The user-friendly guide also includes handy information on local fitness stations, skate facilities, camping grounds, dog off-leash areas and dog free zones, fitness trails and TAngler bins.
Download the Regional Parks Guide, view the Regional Parks Guide online, or grab a copy from any Council Office or Rural Transaction Centre.
Liberty Swing
The Liberty Swing was developed to allow people in wheelchairs the opportunity to enjoy the fun and recreation of swinging.
Gladstone Regional Council is pleased to offer residents this award-winning facility at two of its parks; Millennium Esplanade, Tannum Sands and Hazelbrook Park, Calliope.
The swing meets all the relevant Australian safety standards to ensure a safe, fun and enjoyable experience is had by all participants.
The Liberty Swing fully encloses a wheelchair and features an access ramp, wheel locking mechanism and safety harness, allowing a maximum swing height - that is, really swinging, not just rocking back and forth.
Other features include:
Ramp access
Wheel locking mechanism
Safety harness
Pop up seat
Easy to use
Under the Variety Club's safety regulations, the swing is fenced and locked, and features a comprehensive set of safety instructions and operational diagrams.
This is a free service; however, a carer must understand the operation instructions prior to use and be in attendance at all times, enclosure gates to remain closed and report any damage to Council by phoning (07) 4970 0700.
Fitness equipment
Whether you're a fitness fanatic or interested in exercising socially, residents of all ages can enjoy the fitness equipment installed in 10 parks throughout the Gladstone Region.
The fitness stations, installed as part of Council's Healthy Active Gladstone Region initiative, provide a great opportunity for residents to get fit and healthy.
Sample workout suggestions have been developed for each of the fitness stations, outlining a set of exercises that can be performed at each location.
Fitness stations can be found in the following locations around the region:
Agnes Water / Seventeen Seventy: SES Grounds
Boyne Island: Lions Park , Malpas Park
Calliope: Bunting Park
Gladstone: Emmadale Park , Happy Valley Park , Lions Park
Miriam Vale: Tranquility Walk
Tannum Sands: Garnet Park , Wetlands Park
Park listing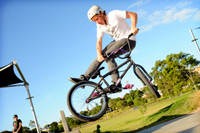 Agnes Water Skate Park
Parking
Male/Female Toilets
Disability Access
Playground
Shelter
Picnic Tables
Rubbish Bins
Barbeque
Electricity
Dogs Allowed
Skate Park
---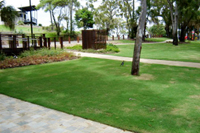 Air Sea Rescue Park
Captain Cook Drive, Seventeen Seventy
Parking
Male/Female Toilets
Disability Access
Beach Shower/Shower Amenities
Playground
Shelter
Picnic Tables
Rubbish bins
Barbeque
Electricity
Dogs Allowed
---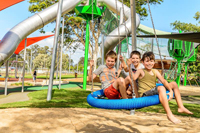 Alf Larsen / Lions Park
War Memorial
Parking
Male/Female Toilets
Disability Access
Playground
Shelter
Picnic Tables
Rubbish Bins
Barbeque
Electricity
Dogs Allowed
---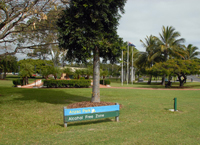 ANZAC Park
Tank Street, Gladstone Central
War Memorial
Parking
Shelter
Picnic Tables
Rubbish Bins
Electricity
No Dogs Allowed
---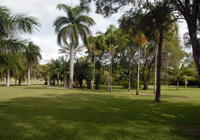 Apex Park
44 Tank Street, Gladstone Central
Male/Female Toilets
Disability Access
Rubbish Bins
Dogs Allowed
---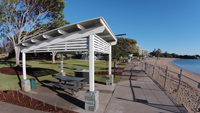 Barney Point Park
Parking
Male/Female Toilets
Beach Shower/Shower Amenities
Playground
Shelter
Picnic Tables
Rubbish Bins
Barbeque
Electricity
No Dogs Allowed
---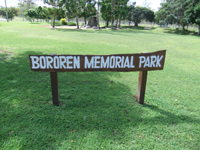 Bororen Memorial Park
Parking
Male/Female Toilets
Disability Access
Playground
Shelter
Picnic Tables
Rubbish Bins
Barbeque
Electricity
Dogs Allowed
---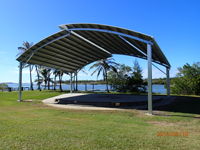 Bray Park
Parking
Male/Female Toilets
Disability Access
Picnic Tables
Rubbish Bins
Electricity
Dogs Allowed
Skate Park
---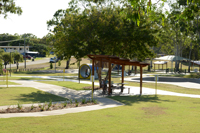 Bunting Park
Parking
Male/Female Toilets
Disability Access
Playground
Shelter
Picnic Tables
Barbeque
Dogs Allowed
Dedicated fenced off-leash dog exercise area
---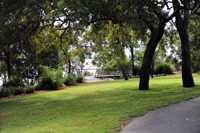 Canoe Point
Canoe Point Road, Tannum Sands
Parking
Male/Female Toilets
Disability Access
Beach Shower/Shower Amenities
Playground
Shelter
Picnic Tables
Rubbish Bins
Barbeque
Dogs Allowed
---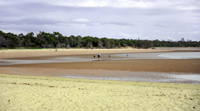 Canoe Point Wetlands
Canoe Point Road, Tannum Sands
Parking
Male/Female Toilets
Disability Access
Beach Shower/Shower Amenities
Playground
Shelter
Picnic Tables
Rubbish Bin
Barbeque
Dogs Allowed
---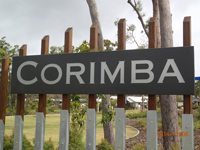 Corimba Park
Riverstone Rise Boulevard, Boyne Island
Playground
Shelter
Picnic Tables
Rubbish Bins
Dogs Allowed
---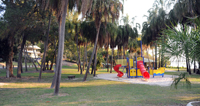 Endeavour Park
Captain Creek Drive, Seventeen Seventy
Parking
Male/Female Toilets
Disability Access
Beach Shower/Shower Amenities
Playground
Shelter
Picnic Tables
Rubbish Bins
Barbeque
Electricity
Dogs Allowed
---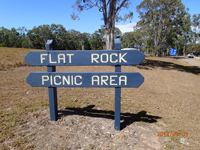 Flat Rock Picnic Grounds
Parking
Male/Female toilets
Playground
Shelter
Picnic Tables
Rubbish Bins
Barbeque
Dogs Allowed
---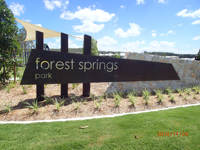 Forest Springs Park
Playground
Shelter
Picnic Tables
Rubbish Bins
Dogs Allowed
---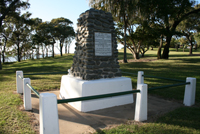 Friend Park
Male/Female Toilets
Shelter
Picnic Tables
Rubbish Bins
No Dogs Allowed
---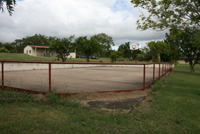 Golding Park – Mount Larcom Community Recreation Hub
Male/Female Toilets
Beach Shower/Shower Amenities
Dogs Allowed
Skate Park
---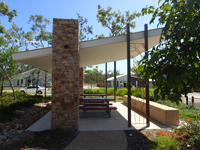 Gullarn Ngheere Park
Playground
Shelter
Picnic Tables
Rubbish Bins
Dogs Allowed
---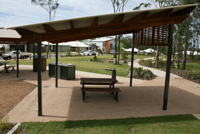 Harmony Park
Playground
Shelter
Picnic Tables
Rubbish Bins
Barbeque
Electricity
Dogs Allowed
---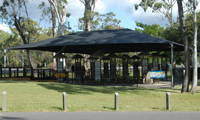 Lions Park (Gladstone)
95 Dawson Highway, West Gladstone
Parking
Male/Female Toilets
Disability Access
Playground
Shelter
Picnic Tables
Rubbish Bins
Barbeque
Electricity
No Dogs Allowed
---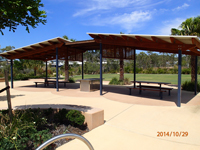 Little Creek Parklands
Little Creek Boulevard, Kirkwood
Playground
Shelter
Picnic Tables
Rubbish Bins
Barbeque
Dogs Allowed
---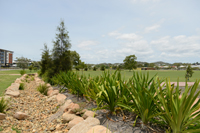 Memorial Park
Yarroon Street, Gladstone Central
Parking
Male/Female Toilets
Disability Access
Playground
Rubbish Bins
Electricity
Dogs Allowed
---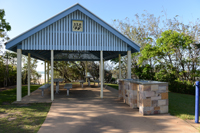 Millennium Esplanade
Millennium Esplanade, Tannum Sands
Parking
Male/Female Toilets
Disability Access
Beach Shower/Shower Amenities
Playground
Shelter
Picnic Tables
Rubbish Bins
Barbeque
Electricity
No Dogs Allowed
---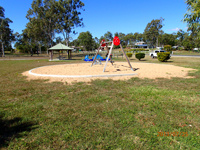 Pershouse Park
Playground
Shelter
Rubbish Bins
Dogs Allowed
---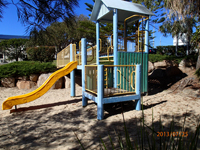 Peters Play Park
Playground
Shelter
Picnic Table
Rubbish Bins
Dogs Allowed
---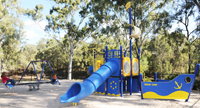 Reg Tanna Park
151 Glenlyon Street, West Gladstone
Parking
Male/Female Toilets
Disability Access
Playground
Picnic Tables
Rubbish Bins
Barbeque
Electricity
Dogs Allowed
---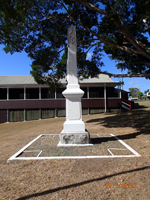 Rosedale Memorial Park
War Memorial
Male/Female Toilets
Disability Access
Playground
Shelter
Picnic Tables
Rubbish Bins
Barbeque
Dogs Allowed
---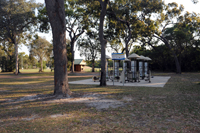 Seventeen Seventy SES Grounds
Captain Cook Drive, Seventeen Seventy
Parking
Male/Female Toilets
Playground
Electricity
Dogs Allowed
Fitness station Workout suggestions
---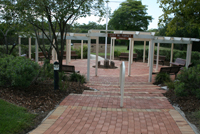 Stirling Park
War Memorial
Parking
Electricity
No Dogs Allowed
---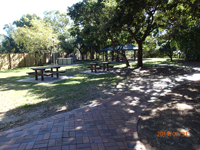 Tom Jeffery Park
Parking
Male/Female Toilet
Disability Access
Beach Shower/ Shower Amenities
Playground
Shelter
Picnic Tables
Rubbish Bins
Barbeque
Electricity
Dogs Allowed
---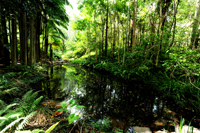 Tondoon Botanic Gardens
Parking
Male/Female Toilets
Disability Access
Playground
Shelter
Picnic Tables
Rubbish Bins
Barbeque
Electricity
No Dogs Allowed
---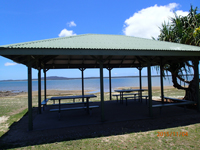 Turkey Beach Park
Parking
Male/Female Toilets
Disability Access
Playground
Shelter
Picnic Tables
Rubbish Bins
Barbeque
Electricity
Dogs Allowed
---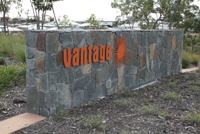 Vantage Park
Daintree Boulevard, New Auckland
Playground
Shelter
Picnic Tables
Rubbish Bins
Barbeque
Dogs Allowed
---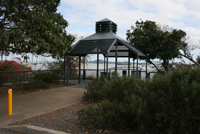 Victoria Park
Endeavour Street, Gladstone Central
Playground
Shelter
Picnic Tables
Rubbish Bins
Barbeque
Dogs Allowed
---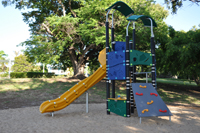 Wyndham Park
Parking
Male/Female Toilets
Disability Access
Playground
Shelter
Picnic Tables
Rubbish Bins
Dogs Allowed
---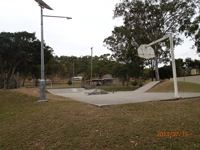 Yarwun Recreation Grounds
1393 Calliope River Road, Yarwun
Male/Female Toilets
Playground
Dogs Allowed
Skate Park
---