Current Minutes and Agendas - General and Special Meetings
An Agenda, with all non-confidential reports will be published by 5pm on the day after distribution to Councillors in accordance with s254D of the Regulation. This generally occurs by the Thursday prior to the following Tuesday General Meetings.

Agendas, including non-confidential reports are available for the current meeting and calendar year plus some past years (see section below). If you are interested in seeing the full Agenda Report of a past meeting and it is not available below please contact Council on (07) 4970 0700.

Minutes of General Meeting are unconfirmed until they are adopted at the following General Meeting. Please refer to the About Council Meetings page for more information about Council Meetings.

Minutes prior to 15 March 2008, of former Gladstone City Council, Calliope Shire Council and Miriam Vale Shire Council, have been scanned and are available for public viewing in digital form at the Gladstone Regional Libraries.
Archived Minutes and Agendas
Print this page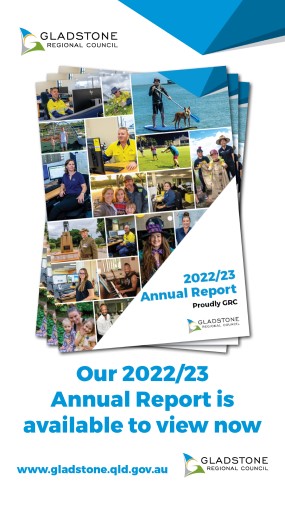 Learn more about our achievements, challenges and plans for the future in our 2022/23 Annual Report.
More Information
Gladstone Regional Council
Connect. Innovate. Diversify.
Return to top
Get in Touch
Opening Hours
8.30am - 5pm Monday to Friday
Postal Address
PO Box 29, Gladstone Qld 4680
Council Offices
101 Goondoon Street, Gladstone Qld 4680
3 Don Cameron Drive, Calliope Qld 4680
41 Blomfield Street, Miriam Vale Qld 4677
Cnr Wyndham & Hayes Avenues, Boyne Island Qld 4680
Rural Transaction Centres
71 Springs Road, Agnes Water Qld 4677
47 Raglan Street, Mount Larcom Qld 4695
Footer Acknowledgement
Gladstone Regional Council would like to acknowledge the Bailai, the Gurang, the Gooreng Gooreng and the Taribelang Bunda people who are the traditional custodians of this land. Gladstone Regional Council would also like to pay respect to Elders both past, present and emerging, and extend that respect to other Aboriginal and Torres Strait Islander people. Learn more about Council's Reconciliation Action Plan (RAP).
© 2023 Gladstone Regional Council
All content © Gladstone Regional Council. All Rights Reserved.
Back to the top