Swooping birds
Noisy crows
Flying-foxes
Snakes
Possums
Itchy Grubs
Turtle nesting
Swooping birds
When some species of native birds have eggs or young in the nest, they can become protective and may swoop people entering their nesting territory. The breeding season for most swooping birds is July to November, peaking between August to October. Native species most commonly known to swoop includes magpies, plovers, crows and butcherbirds. It is a serious offence to harm or interfere with native Australian birds, as they are protected under Nature Conservation Act 1992.
If a bird swoops you DO NOT fight back, throw sticks or stones, or yell at the bird as this will make the magpie more aggressive.
The best way to avoid being swooped is to:
Avoid the area by finding an alternative route
Protect yourself by wearing a broad brimmed hat or using an umbrella, or holding your school bag above your head
Wear glasses to protect your eyes
Team up with others and walk in a group
If you are riding your bike, dismount and walk
Attach a flag on a long pole to your bike
Report swooping birds to Council.
Council manages swooping birds by providing information, undertaking swooping bird assessments and implementing an appropriate response on Council controlled land (installing warning signs).
Swooping bird hotspot webmap
How to change the map to satellite imagery:
Click the button at the top left of the page, under the search bar. This will open the map layers.
Click the check-box/es that say "GladstoneArea2019", "AgnesArea2018, or "Whole Region 2017" (please note; enabling satellite imagery may take longer to load the map)
How to add a swooping bird point:
Navigate to the area which you have seen a bird swooping. You may do this by manually clicking and dragging the map, or by entering the address where the bird was seen, into the search bar at the top-left of the page.
Click the button at the top left of the page, under the search bar. This will open the map editing tool.
Click the button within the tool that opens, so that it highlights blue.
Click on the map to drop a point, for where you observed a swooping bird.
A set of brief questions will pop up as you place a point, including what happened (please include the species of bird that was swooping), and the date and time of day you saw the swooping.
Noisy crows
The Torresian Crow is a native Australian bird that plays an important role in natural pest control, preying on insects and mice around crops, woodlands and suburban gardens. Crows also help to remove roadkill and disperse native seeds.
The availability of food scraps in residential areas can sometimes encourage crows to become dependent on artificial food sources, which may increase their numbers unnaturally and create a nuisance.
Take the following measures to ensure noisy crows don't become an issue in your area:
Ensure garbage bin lids are kept closed and not overflowing with rubbish
Do not feed crows or leave scraps of food or rubbish lying around
Remove pet food from backyards
Be understanding of increased noise during the breeding season, between August and February.
Remember crows are protected under state legislation and it is illegal to harm or kill crows or interfere with their nests or eggs.
Flying-foxes
Flying-foxes are winged mammals that feed on the nectar, pollen and fruit from a variety of native and introduced plants. As such, they play an important role in flower pollination and long-distance seed dispersal. These social animals roost in camps that are important resting places, along with mating and the rearing of young.
Habitat loss and the resulting lack of food and shelter has led flying-foxes to roost and forage in urban areas. Human-Flying-fox conflict may arise because of issues such as noise, odour and droppings.
Flying-foxes are protected under the Nature Conservation Act 1992, however local governments have the authority to undertake roost management within defined areas. There are a number of factors to consider before taking management action, including the likelihood of the roost relocating to a site of greater conflict.
Miriam Vale Flying-fox Management Plan Statement of Management Intent for Flying-foxes Living with Flying-foxes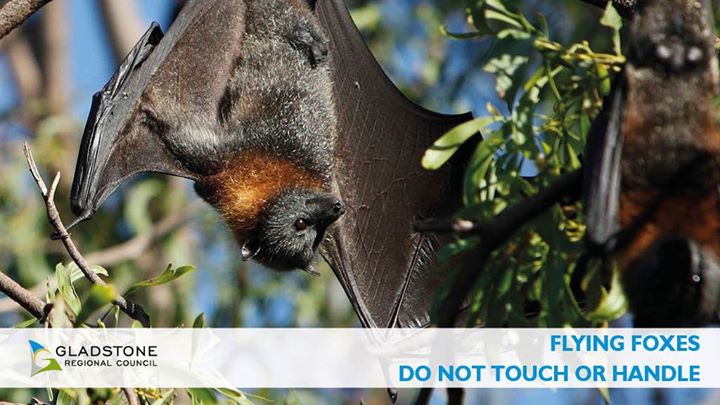 If you find an injured or orphaned flying-fox DO NOT handle the animal, contact the RSPCA on 1300 ANIMAL (1300 264 625).
If you find a dead flying-fox on Council land, contact Council.
Health related information regarding flying-foxes can be found on the Department of Environment and Science and Queensland Health websites.
Snakes
Snakes play an important role in natural environments, helping to regulate populations of prey animals and maintain healthy ecosystems. All snakes are protected under the Nature Conservation Act 1992 and cannot be killed or taken from the wild, unless by a licensed snake catcher.
Land clearing and urban development has led to an increase in snake encounters. You can minimise the likelihood of encounters by making your home and backyard an unsuitable snake environment by keeping your yard free of timber and debris, lawn at a low height and your windows and doors screened.
When outdoors, protect yourself from snakes by wearing covered shoes and long pants, stick to formed paths and carry a snake-bite kit. When left alone, snakes pose very little danger to people; most snake bites are received by people who try to capture or kill a snake.
More information can be found on the Department of Environment and Science or by phoning 1300 130 372.
There are a number of commercial snake catchers that operate in the Gladstone Region. Contact details are provided for the benefit of the community, it is the responsibility of the customer to ensure the applicable licenses and insurances are valid and a cost may be incurred.
Local snake catchers
Agnes Water, Captain Creek and Miriam Vale area only
- Jason Brownscombe - 0421 174 128
Gladstone, Tannum Sands, Boyne Island and Yarwun areas
- David Voss - 0413 900 403 - QLD DMP Permit:WA0016450
All areas of the Gladstone Region (Raglan to Rosedale, Boyne Valley to Agnes Water)
- Jason Gibb - 0427 376 478
Possums
In their natural environment, possums usually live in tree hollows but with the loss of native bushland many of these natural homes have been destroyed. Being highly territorial, possums do not relocate easily and so they sometimes seek safe shelter in your roof. Under Qld legislation a possum can be trapped if the person has a damage mitigation permit to remove and relocate the possum, however a trapped possum must only be moved a maximum of 25m.
Please note: Council does not issue cat traps for the purpose of trapping possums. Possums are a protected native animal and a permit is required for trapping.
For more information about living with possums, please contact the Department of Environment and Science on 1300 130 372.
Itchy Grubs (Processionary Catepillar)
During the months of April and May, it is not uncommon to see long processions of what people commonly refer to as 'Itchy Grubs' (ochrogaster lunifer) marching head to tail as they search for new food sources. These grubs mainly feed on various species of wattle.
They build nests at the base of food source trees or in the canopy. Prior to winter the grubs burrow into the ground and emerge in summer as bag-shelter moths. If you encounter these grubs, do not touch them as their hairs and the white powdery scale that they produce in nests can cause dermatitis and allergic reactions such as red swollen skin rashes.
If you find a nest that is causing a problem in a park or other public area, please phone Council.
For other wildlife emergencies and enquiries, please contact the Department of Environment and Science on 1300 130 372.
Turtle nesting
The Gladstone region is home to four of the world's seven species of marine turtle. These turtles come ashore to nest on sandy beaches throughout the region from November to March.
If you come across a nesting turtle, be respectful and patient, as turtles are timid and easily disturbed. Turn off any lights, do not use a camera flash, and give them plenty of space to complete the egg laying ritual which may take several hours.
Once a turtle has laid her eggs, the nest is incubated for approximately 6 weeks, after which the hatchlings will emerge as a group. Hatchlings use the lowest bright horizon to find their way to the ocean. Once in the water the turtles are carried out by the tide and waves to the open ocean where they spend up to 10 years before returning to shallow waters.
Take the following steps to help protect nesting turtles and their habitats:
Observe nesting turtles and hatchlings from a distance and let them make their own way across the beach;
If you observe turtle tracks or a nesting turtle, please report your sighting to the relevant group:-

In the Boyne Island, Tannum Sands and Gladstone Harbour area - report to the Fitzroy Basin Association via their website at www.fba.org.au/marine-turtle-season-report-a-sighting/
In the Agnes Water, from 1770 Headland to Springs Beach area - report to the Discovery Coast Environment Group on 0439 289 633.

Only drive on beaches where vehicles are permitted and adhere to any permit requirements. Stick to the hard sand below high tide mark and don't interfere with marked turtle nests;
Avoid using torches on the beach at night during turtle nesting season between November and March;
If you live near the beach, use turtle-friendly outdoor lighting and vegetation to screen artificial light sources;
Observe seasonal dog prohibited areas and keep dogs on leash when on the beach during turtle nesting season between November and March;
Prevent marine debris by disposing of rubbish appropriately;
Don't interfere with coastal vegetation or light beach fires; and
If you observe a sick, injured or dead turtle, or other marine wildlife, report to the QLD Government Wildlife Hotline on 1300 130 372.
Return to top
Gladstone Regional Council
Connect, Innovate, Diversify
© 2020 Gladstone Regional Council
All content © Gladstone Regional Council. All Rights Reserved.
Back to the top