Magpies and other birds
Flying-foxes
Snakes
Possums
Itchy Grubs
Magpies and other birds
The breeding season for magpies is July to November, peaking between August to October. When magpies have eggs or young in the nest, they can become protective and may swoop people entering their nesting territory. Other native species may also swoop including plovers, crows and butcherbirds. It is a serious offence to harm or interfere with native Australian birds, as they are protected under Nature Conservation Act 1992.
If a magpie swoops you DO NOT fight back, throw sticks or stones, or yell at the bird as this will make the magpie more aggressive.
The best way to avoid being swooped is to:
Avoid the area by finding an alternative route
Protect yourself by wearing a broad brimmed hat or using an umbrella, or holding your school bag above your head
Wear glasses to protect your eyes
Team up with others and walk in a group
If you are riding your bike, dismount and walk
Attach a flag on a long pole to your bike
Report swooping birds to Council.
Council manages swooping birds by providing information, undertaking swooping bird assessments and implementing an appropriate response on Council controlled land (installing warning signs).Living with Magpies
Flying-foxes
Flying-foxes are winged mammals that feed on the nectar, pollen and fruit from a variety of native and introduced plants. As such, they play an important role in flower pollination and long-distance seed dispersal. These social animals roost in camps that are important resting places, along with mating and the rearing of young.
Habitat loss and the resulting lack of food and shelter has led flying-foxes to roost and forage in urban areas. Human-Flying-fox conflict may arise because of issues such as noise, odour and droppings.
Flying-foxes are protected under the Nature Conservation Act 1992, however local governments have the authority to undertake roost management within defined areas. There are a number of factors to consider before taking management action, including the likelihood of the roost relocating to a site of greater conflict.
An annual review of the Miriam Vale Flying Fox Management Plan was completed in August 2019. The updated Plan, in addition to the presentation delivered at the Community Workshop and a response to questions received can be found below.
Miriam Vale Flying-fox Management Plan Miriam Vale FFMP - Community Engagement Community Engagement Q&As
Statement of Management Intent for Flying-foxes Living with Flying-foxes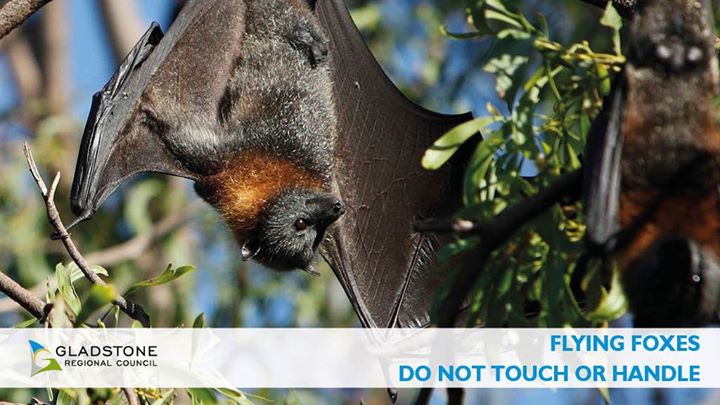 Council has received multiple reports of flying foxes appearing across the Gladstone Region. The cause is likely due to the dry conditions, resulting in a lack of food for the animals.
If you find an injured or orphaned flying-fox DO NOT handle the animal, contact the RSPCA on 1300 ANIMAL (1300 264 625).
If you find a dead flying-fox on Council land, contact Council.
Health related information regarding flying-foxes can be found on the Department of Environment and Science and Queensland Health websites.
Snakes
Snakes play an important role in natural environments, helping to regulate populations of prey animals and maintain healthy ecosystems. All snakes are protected under the Nature Conservation Act 1992 and cannot be killed or taken from the wild, unless by a licensed snake catcher.
Land clearing and urban development has led to an increase in snake encounters. You can minimise the likelihood of encounters by making your home and backyard an unsuitable snake environment by keeping your yard free of timber and debris, lawn at a low height and your windows and doors screened.
When outdoors, protect yourself from snakes by wearing covered shoes and long pants, stick to formed paths and carry a snake-bite kit. When left alone, snakes pose very little danger to people; most snake bites are received by people who try to capture or kill a snake.
More information can be found on the Department of Environment and Science or by phoning 1300 130 372.
There are a number of commercial snake catchers that operate in the Gladstone Region. Contact details are provided for the benefit of the community, it is the responsibility of the customer to ensure the applicable licenses and insurances are valid and a cost may be incurred.
Local snake catchers
Agnes Water, Captain Creek and Miriam Vale area only
- Jason Brownscombe - 0421 174 128
Miriam Vale to Agnes Water area
- Duanne Bowen - 0424 303 977
Gladstone, Tannum Sands, Boyne Island and Yarwun areas
- David Voss - 0413 900 403
- DES Permitt:WA0016450
All areas of the Gladstone Region (Raglan to Rosedale, Boyne Valley to Agnes Water)
- Kris Foster - 0439 666 102
All areas of the Gladstone Region (Raglan to Rosedale, Boyne Valley to Agnes Water)
- Jason Gibb - 0427 376 478
Possums
In their natural environment, possums usually live in tree hollows but with the loss of native bushland many of these natural homes have been destroyed. Being highly territorial, possums do not relocate easily and so they sometimes seek safe shelter in your roof. Under Qld legislation a possum can be trapped if the person has a damage mitigation permit to remove and relocate the possum, however a trapped possum must only be moved a maximum of 25m.
Please note: Council does not issue cat traps for the purpose of trapping possums. Possums are a protected native animal and a permit is required for trapping.
For more information about living with possums, please contact the Department of Environment and Science on 1300 130 372.
Itchy Grubs (Processionary Catepillar)
During the months of April and May, it is not uncommon to see long processions of what people commonly refer to as 'Itchy Grubs' (ochrogaster lunifer) marching head to tail as they search for new food sources. These grubs mainly feed on various species of wattle.
They build nests at the base of food source trees or in the canopy. Prior to winter the grubs burrow into the ground and emerge in summer as bag-shelter moths. If you encounter these grubs, do not touch them as their hairs and the white powdery scale that they produce in nests can cause dermatitis and allergic reactions such as red swollen skin rashes.
If you find a nest that is causing a problem in a park or other public area, please phone Council.
For other wildlife emergencies and enquiries, please contact the Department of Environment and Science on 1300 130 372.