Economic Development
Gladstone Region Economic Transition Roadmap 2022-2032
Economy & Industry
Strategic Priorities
Useful links
Gladstone Region Economic Transition Roadmap 2022-2032
In an Australian first, Gladstone Regional Council has launched its 10-year economic transition roadmap to support and guide the region to becoming a renewable energy superpower.
The roadmap will see this community in prime position to respond to once-in-a-generation changes in the energy sector.
Developed in partnership with regional economic development agency, The Next Economy, the detailed plan is a result of two years of research and extensive engagement involving 220 community, government and industry stakeholders.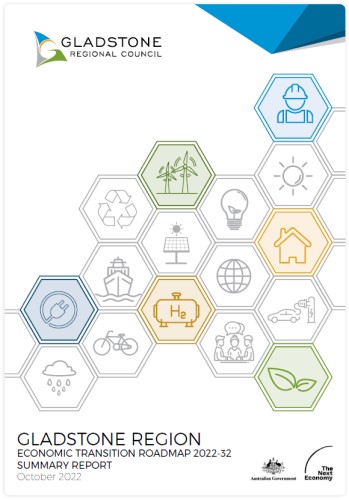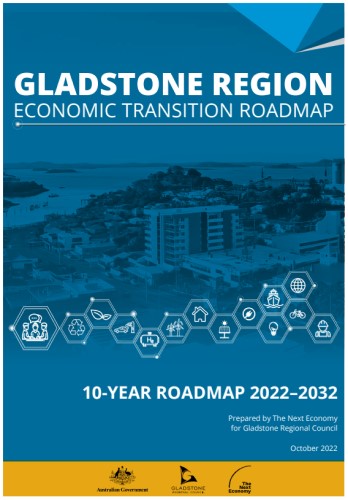 Economy & Industry
The Gladstone Region is varied and diverse in its economic base, making the region one of the most resilient in Queensland, if not Australia.
The natural attributes of the Gladstone Harbour have driven the development of world-class industries in immediate proximity to Gladstone. Not stopping there, the region offers much more, from a thriving eco-tourism industry centred around the islands of the Southern Great Barrier Reef, the attractive holiday destinations of Agnes Water to the south and rural hinterland to the west, to thriving beef and macadamia nut industries.
The Growing the Gladstone Region: Report and Recommendations to Inform the Gladstone Region Economic Development Strategy 2021-2025, A Framework for Promoting Prosperity, informs Gladstone Regional Council's five-year plan to support the vibrancy, diversity, resilience and sustainability of the communities of the Gladstone Region. An evidenced-based report, it informs and guides the Gladstone Region towards economic prosperity in the context of a dynamic and transforming broader economic landscape.
Gladstone Region Economic Development Strategy 2021-2025 Report and Recommendations
Strategic Priorities
Gladstone Regional Council's role in influencing decision makers is crucial to future-proofing our region. 
Together with industry and our community, we're striving to achieve a shared vision for our communities, protecting our assets and encouraging robust investment and development goals, to build a stronger future. 
The 2022/23 Strategic Priorities publication has been developed to advocate for our region to all levels of governments, key stakeholders, industry and investors.
The identified strategic priorities for 2022/23 are:
Gladstone Heavy Vehicle Transport Corridor  
Inland Rail Extension to the Port of Gladstone 
Boyne Tannum Aquatic Recreation Centre (BTARC) 
Harvey Road Sports and Events Precinct
Establishing the Royal Australian Navy Fleet Base North – Port of Gladstone
Regional Water Supply and Wastewater Infrastructure
Ageing in Place Strategy 
Renewable Energy and the Transitioning Economy
Manufacturing and Skills Development 
With a diverse regional economy, a skilled workforce and a range of leisure, lifestyle and living opportunities, the Gladstone Region is well positioned for continued growth and represents an attractive investment destination. 
Useful links
Engineering, commerce and industry groups
Government owned corporations
Tourism related organisations
Print this page
Return to top
Gladstone Regional Council
Connect, Innovate, Diversify
© 2023 Gladstone Regional Council
All content © Gladstone Regional Council. All Rights Reserved.
Back to the top