Function spaces
If you want to host a birthday party, wedding, or other event, the Gladstone Tondoon Botanic Gardens boast a range of beautiful, natural spaces available for booking.
Event Areas For Hire Private Function Booking Community Event Booking
Art Gallery and deck
While Tondoon Botanic Gardens café is closed for upgrades, the Art Gallery and toilets behind the building will also be closed. We look forward to opening these facilities when work is complete.
Café
Council looks forward to unveiling the new deck and café area when complete.
Reference Library
Need to do some research on Flora and Fauna topics? Our Reference Library is growing all the time so we can keep up to date with the latest information. You can visit our reference library Monday - Friday, 7am - 4pm.
Plant identification services are also available.
Herbarium
Our Norm Gibson herbarium has one of the largest collections outside Brisbane. Visit Thursday mornings to learn more and meet our volunteers.
Demonstration Garden Master Site Plan
In 2015, a plan was developed for demonstration gardens on the southern bank of Lake Tondoon. They would show how local native species could be used in the Gladstone Region, focusing on:
Port Curtis plants in your own garden
How to grow your own produce organically at home
Research and development
Pacific flora link garden
Print this page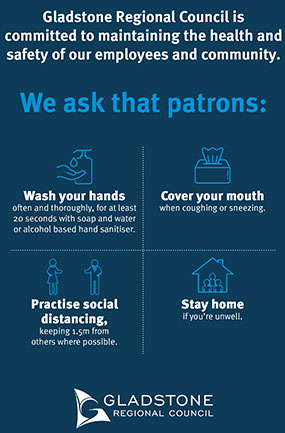 We ask that visitors do not attend our facilities if you; have returned from overseas or a COVID-19 hotspot in the last 14 days, have cold or flu like symptoms, have been in contact with a confirmed case of COVID-19 in the last 14 days.
Return to top
Gladstone Regional Council
Connect, Innovate, Diversify
© 2023 Gladstone Regional Council
All content © Gladstone Regional Council. All Rights Reserved.
Back to the top