Gladstone Regional Libraries
Welcome to our libraries where you'll find more than just what's on the shelves.
Discover the variety of services, workshops, children's activities available across our five locations.
Turn the page and find out more about our libraries!
Print this page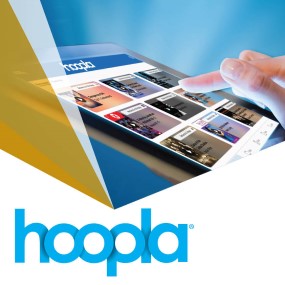 Access with your library card
The app will allow customers to stream or download ebooks, eAudio, magazines, music and comics
More Information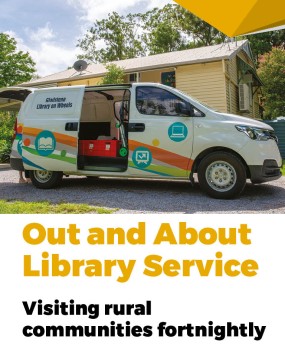 Library Out & About Service
Visiting the Baffle Creek, Boyne Valley and Yarwun areas once a fortnight.
More Information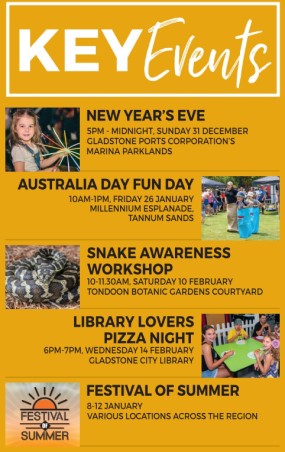 Gladstone Regional Council
Connect. Innovate. Diversify.
Return to top
Get in Touch
Opening Hours
8.30am - 5pm Monday to Friday
Postal Address
PO Box 29, Gladstone Qld 4680
Council Offices
101 Goondoon Street, Gladstone Qld 4680
3 Don Cameron Drive, Calliope Qld 4680
41 Blomfield Street, Miriam Vale Qld 4677
Cnr Wyndham & Hayes Avenues, Boyne Island Qld 4680
Rural Transaction Centres
71 Springs Road, Agnes Water Qld 4677
47 Raglan Street, Mount Larcom Qld 4695
Footer Acknowledgement
Gladstone Regional Council would like to acknowledge the Bailai, the Gurang, the Gooreng Gooreng and the Taribelang Bunda people who are the traditional custodians of this land. Gladstone Regional Council would also like to pay respect to Elders both past, present and emerging, and extend that respect to other Aboriginal and Torres Strait Islander people. Learn more about Council's Reconciliation Action Plan (RAP).
© 2023 Gladstone Regional Council
All content © Gladstone Regional Council. All Rights Reserved.
Back to the top