Seniors Month returns with events taking place throughout October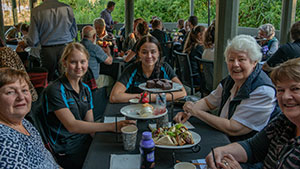 Queensland Seniors Month is back and Gladstone Regional Council together with various community groups and organisations will host a multitude of events to keep seniors connected throughout October.

Last year saw the inaugural Queensland Seniors Month take place, replacing Queensland Seniors Week, with this year's celebrations set to be bigger and better than before.
During the month people of all ages, cultures and abilities will connect through inclusive events and activities, celebrating the important and essential roles older people play in our communities.
Gladstone Region Mayor Matt Burnett said the theme for Queensland Seniors Month 2022 is Social Connections. "Gladstone Regional Council will be joining in on the fun with a long list of events on offer for seniors throughout October," Councillor Burnett said.
"Council values the contribution of our seniors and Queensland Seniors Month events are a way to say thank you."
Cr Burnett said Council-run events will be held across several locations including Tondoon Botanic Gardens, Gladstone Regional Art Gallery & Museum (GRAGM), Gladstone Entertainment Convention Centre (GECC) and Gladstone Regional Libraries.
H.O.P.E Café (Helping Other Possibilities Emerge) will also return this year following its highly successful launch in 2021.
"Social connection is more important than ever, so we are inviting seniors to join us for lunch in the country and a menu of conversation at The Old Station, Raglan on Wednesday 26 October," Cr Burnett said.
"Transportation to The Old Station is available from across the region, including Gladstone, Mount Larcom, Boyne Island, Boyne Valley, Calliope, Miriam Vale and Agnes Water.
"The H.O.P.E Café was well received last year and I'm expecting the same again this year, so make sure to book your seat to this free event."
Other Council-run Queensland Seniors Month highlights include:
Tondoon Botanic Gardens: Garden Talk with a Cuppa, Guided Walk, Bonsai for Seniors
GRAGM: Our Priceless Past exhibition (10 September to 29 October)
GECC: Menopause the Musical, Cheque Please, Dishing Up Three Courses of Comedy, Morning Melodies – Ella, Etta, Eartha
Gladstone Regional Libraries: Culture Café, 1000 Hearts Kindness Project, Makertime, Tie Dying, Book Club, Beyond the Shelves, Alternatives to Ancestry.
Visit www.gladstone.qld.gov.au/senior for a comprehensive list of Council and community-related events taking place during Queensland Seniors Month.
Registrations to H.O.P.E Café close on Wednesday 5 October – email info@gladstone.qld.gov.au or call 4970 0700 to register your attendance.
See Also
Print this page