Home Based Business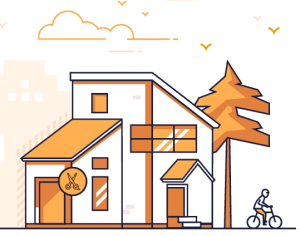 A home based business is a business that operates from a house and is small in scale. The main use of the house must still be for 'living' purposes.
Can be a home based business
✔ Examples include bed and breakfast, farm stay and pet day care, home salons and online retail businesses.
Not a home based business
✘ Activities like mechanical repairs and manufacturing because of the potential to cause nuisance, noise or environmental impacts.
Home Based Child Care
Home Based Child Care does not require Council approval if approved under the Child Care Act 2002.
Do I need an approval for a home based business?
A home based business does not need any approval as long as the following requirements are all met, at all times:
The business is wholly contained within the main house on the site
Has a maximum area for the business use (gross floor area) of 100m2
The business is conducted by a resident or residents of the dwelling and has no more than two (2) non-resident employees on site at any one time;
No goods, materials or equipment are visible from the street or neighbouring properties
Unless a bed and breakfast, the business is closed Sunday and public holidays with operating hours between 7am to 7pm Monday to Friday and 7am to 1pm on Saturdays
Limited customers – no more than 10 vehicular trips to and from the site per day and no more than 2 vehicles parked on the site at any one time associated with the business
Limited deliveries of no more than 1 delivery per week from a delivery vehicle exceeding 2.5 tonnes in weight)
Activities do not involve the repairing, servicing, cleaning, or loading of motor vehicles.
Additional requirements if Bed and Breakfast
There are some additional requirements for Bed and Breakfast businesses, which means they need to meet the above requirements, plus ensure that:
No guest/s stay consecutively for more than 4 weeks
The area of the home provided for bed and breakfast usage does not contain more than:

2 guest bedrooms if within a residential, centre, township or rural residential zone, or
4 guest bedrooms if located within the rural zone.
Why does Council allow home based businesses?
Home based businesses provide the opportunity for:
Small scale businesses to establish with minimal overheads.
People to work from home, and/or work flexibly around family commitments
Increase security in neighbourhoods during normal working hours.
Because home based businesses are located in residential neighbourhoods, Council have a number of regulations in place for how big they can be and how they operate so they don't impact on the peace and quiet of others.
What if I don't meet these requirements?
If you have a home based business idea that doesn't quite fit within these requirements – a planning approval would be required so that Council can assess any possible impacts on surrounding neighbours.
You can talk to a Planning Officer at Council about your particular business needs and circumstances. The requirements that would apply to an application for a home based business can be found in Part 9.3.4 Home Based Business Use Code of the planning scheme.
Will I need any other permits or licences?
Some home business activities require an additional a permit or licence – sometimes these are with Council and other times with the Queensland Government or other licencing bodies. It is the business owner's responsibility to ensure that they have the correct approvals and licences.
Please be aware that personal appearance services including hair dressing, beauty therapy and skin penetration such as tattooing and body piercing services often have health licence requirements, and other licences outside of Council.
Checklist - Home based business
Click on the + symbol or the questions below to expand and display each item.
Contact Council on (07) 4970 0700 or info@gladstone.qld.gov.au for further assistance.
To see other Fact Sheets, hover over the image above and click on an aspect (or symbol such as a fence, house etc). This will display another Fact Sheet for you on that subject.
Print this page
Return to top
Gladstone Regional Council
Connect, Innovate, Diversify
© 2022 Gladstone Regional Council
All content © Gladstone Regional Council. All Rights Reserved.
Back to the top