'Put second-hand first' – Council call for Garage Sale Trail stallholders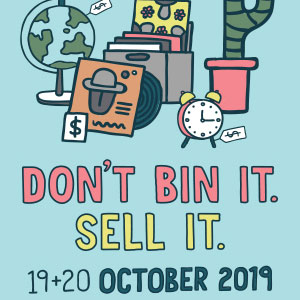 As the saying goes, 'one man's trash is another man's treasure', and Council is again supporting the national Garage Sale Trail campaign, encouraging residents to reduce, reuse and recycle.
Gladstone Region Councillor Rick Hansen said community groups, schools, businesses and households were encouraged to support the national initiative with the Garage Sale Trail weekend set for Saturday, 19 October to Sunday, 20 October.
"Last year across the Gladstone Region there were a total of 124 garage sales and stalls registered to participate in the Garage Sale Trail," Councillor Hansen said.
"It encourages community members to repurpose and consciously reduce the number of items which would otherwise be sent to landfill.
"It is also a chance to make some extra pocket money from items we no longer need, or to pick up a great bargain."
Cr Hansen said Council is pleased to be one of 140 Council supporting the national initiative.
"Taking part in the trail is a great way for sellers to promote their sale items for free and for buyers to map out their own sale trial to follow over the weekend," he said.
"So, time to 'spring' into that Spring cleaning and see what treasures you can find to be part of the Garage Sale Trail."
Registrations for Garage Sale Trail are free and can be made online at www.garagesaletrail.com.au/Gladstone
Residents can register for free as an individual seller or take part in a group sale.
For more information, contact Council on 4970 0700.
See Also