Waterway plant restoration to benefit Great Barrier Reef catchment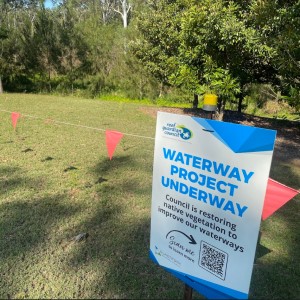 Gladstone Regional Council (GRC) has launched a pilot project to restore waterway vegetation and improve water quality in the Great Barrier Reef catchment area.

The project aims to restore riparian vegetation or native plants growing along a section of Tigalee Creek in Gladstone.
Restoration will rely on a combination of:
Control of pest weed species
Revegetating by planting native plants/trees
Reducing mowing along the bank of the waterway.
Gladstone Region Councillor Natalia Muszkat said native plants growing along the banks of waterways directly affect their health, water quality and the surrounding ecosystem.
"Restoring this type of vegetation helps to reduce sediments and other pollutants that impact coral health and other important ecosystems," Councillor Muszkat said.
"Council's Parks and Environment and Conservation teams, along with volunteers from Conservation Volunteers Australia, took the first restoration step when they planted more than 580 native plants and trees in Tigalee Park on 14 September."
The journey toward restoring waterway vegetation was motivated by a new category of protected vegetation introduced by the Queensland Government in 2018. Category R regrowth vegetation occurs within 50m of identified watercourses and is designed to improve the water quality entering the Reef.
Council will now monitor the area throughout the project to ensure additional controls won't be required.
"The community may notice increased growth of grassy vegetation along the banks of Tigalee Creek," Cr Muszkat said.
"Please understand that while seemingly overgrown, this vegetation provides important environmental function and will support regeneration of the riparian corridor."
The project results will be finalised in March 2023 and, if successful, will be a guide for future revegetation projects throughout the Gladstone Region.
Council is proud to participate in the Reef Guardian Council program and deliver projects that protect and improve the health of the Great Barrier Reef.
List of trees/plants planted: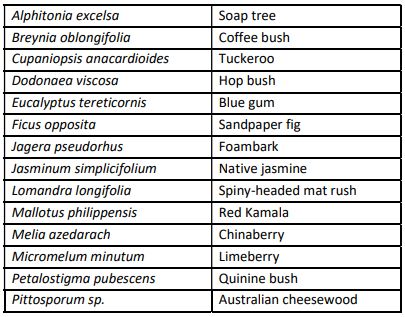 Visit www.gladstone.qld.gov.au/conservation-programs-initiatives to learn more about the project and other Council conservation initiatives.
See Also
Print this page