Council seeking local knowledge on Lowmead Sports Grounds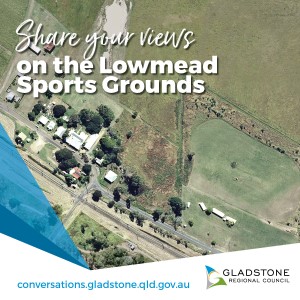 Gladstone Regional Council has started consultation with residents to determine the community's existing and potential future use of the Lowmead Sports Grounds.
Gladstone Region Mayor Matt Burnett said Council is seeking local knowledge from residents to provide insight into the community value and benefit of the grounds.
"We would like to hear from individuals, community groups or organisations who either use the grounds or see potential to use them in the future, to get a better understanding of the community's needs," Councillor Burnett said.
"Residents can share their views online via our Conversations platform or attend one of our upcoming Drop-in Sessions being held at the Lowmead Hall."
The first Drop-in Session will be from 9am-1pm on Wednesday 12 October, with the next one being held from 1pm-5pm on Thursday 20 October.
Visit conversations.gladstone.qld.gov.au and click on the Lowmead Sports Grounds heading to find out more.
Feedback is open until Sunday 23 October.
See Also
Print this page