NAIDOC Week – what it means to Gay Sirriss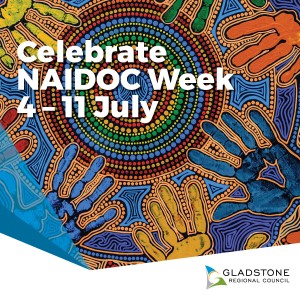 It's NAIDOC Week with the word standing for National Aborigines and Islanders Day Observance Committee.
The origins of this weeklong celebration of Indigenous identity can be traced back to the emergence of Aboriginal groups in the 1920's.
They were trying to increase awareness in the wider community of the status and treatment of Aboriginal and Torres Strait Islander Australians.
Gladstone Regional Council's Reconciliation Plan Officer, Gay Sirriss, reflects on what NAIDOC Week means for her.
"It's a chance for Aboriginal and Torres Strait Islander people to celebrate their identity for one week every year.
My Aboriginal identity comes from my dad's side…. his grandmother's heritage was Aboriginal/Chinese.
Each year in Gladstone, we celebrate NAIDOC Week with various activities that are open to all community members, regardless of race.
My favorite part of the week is the march and family day…. both of these events are held on the same day, and both symbolise there is unity in our community.
There have been many moments that have created great memories but there's one that has stuck in my mind.
It was a speech made by Byellee Elder, Aunty Thelma Coleman, at a NAIDOC march.
My interpretation of Auntie's speech was that it doesn't matter where you have come from because we all need to learn to get along with each other. Those words are something I aspire to everyday.
NAIDOC Week has a theme each year and there's something about this year's theme of 'Healing Country' that is heartfelt. I think there's a real need for healing in our communities."
Print this page