No shortage of virtual activities on offer during Ecofest 2020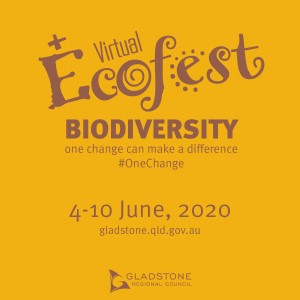 The line-up for Central Queensland's largest free environmental awareness event has been confirmed as Ecofest prepares to go virtual in 2020.

Beginning from Thursday 4 June and running until 10 June, Ecofest 2020 is set to provide people of all ages an opportunity to become involved without the need to leave their home, office or school.
Virtual content will be published each day on Gladstone Regional Council's Facebook page and via the recently launched Virtual Neighbourhood Centre, with over 20 local environmental groups, industries and artists taking part.
Activities on offer throughout Ecofest will tie in with this year's theme of 'Biodiversity – one change can make a difference'.
Gladstone Region Councillor Desley O'Grady said Ecofest 2020 will feature live streams, interactive questionnaires, workshops, competitions, a movie screening and much more.
"Ecofest 2020 will kick off with local artist Jenny Fournier presenting a new Take pART Act II project alongside Mischa Wehner and William Debois titled Junk + Bugs: Gifts to the Artist," Councillor O'Grady said.
"These local artists have a passion for repurposing and have created a stop-motion video embracing the 2020 World Environment Day theme of Biodiversity.
"The project highlights in a fun way how one small change can make a difference, alongside Ecofest's aim for a cleaner, more sustainable future."
Two additional Take pART Act II projects will feature through the Ecofest virtual event.
A live stream on Gladstone Regional Council's Facebook page will take place from 10am on Sunday 7 June where residents can learn about GRC's role in managing the environment, as well as our region's environmental diversity and future plans from our local environmental groups and industries.
The live stream will also feature activities, videos and demonstrations from other organisations.
See Also