Jumpstart City Heart funding open all year round
People passionate about seeing Gladstone's Central Business District (CBD) continue to grow are encouraged to apply for funding under Gladstone Regional Council's Jumpstart City Heart initiative.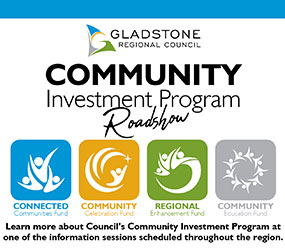 Jumpstart City Heart aims to support initiatives of community organisations, CBD businesses and individuals that contribute to encouraging visitation, vibrancy, overall aesthetics of the CBD, stimulation of the economy and to engage community and visitors.
Gladstone Region Councillor Glenn Churchill said Council was seeking residents' input in order to continue creating a vibrant city centre that can assist businesses and the community.
"Council would like people to share their vision and innovative ideas on how they would like to live, work, invest and play in the city CBD," Councillor Churchill said.
"Examples of eligible projects include the creation and support of food and drink related events, community art-based projects, alternative transport projects, public space activation and pop-up opportunities.
"Funding for Jumpstart City Heart is available all year round, so we encourage interested individuals, businesses and community organisations to familiarise themselves with the eligibility criteria."
For a project to be considered eligible, it must meet at least three of the Jumpstart City Heart objectives.
The objectives of Jumpstart City Heart are:
Re-establishing Goondoon Street as Gladstone's vibrant corridor by improving economic and development opportunities within the CBD
Creating a CBD destination that provides entertainment for the entire Gladstone Region
Creating a unique identity for the CBD and achieving a sense of arrival and enjoyment
Recognising the city's heritage as an important asset and improving the quality of public spaces and side streets
Investigating alternative transport options for ease of access into and throughout the CBD
Converting grey space to green space and improving connectivity to active open spaces.
To be eligible to apply for Jumpstart City Heart funding, the applying organisation must be one of the following:
Not-for-profit community organisation based in or servicing the Gladstone Regional Council area OR
Business based in or servicing the Gladstone Regional Council area OR
Not-for-profit sporting organisations/active recreation groups based in the Gladstone Regional Council area OR
An educational institution.
Applicants must be incorporated (not applicable for businesses), be financially solvent, have an Australian Business Number (ABN) or complete a 'Statement by a supplier' form.
Applicants can apply for funding up to a maximum of $2000 (ex GST).
Jumpstart City Heart falls under Gladstone Regional Council's Regional Enhancement Fund.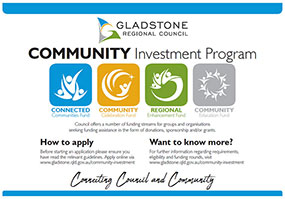 See Also
News Items
Media Releases
Community Investment