Community Investment Roadshow aims to answer funding questions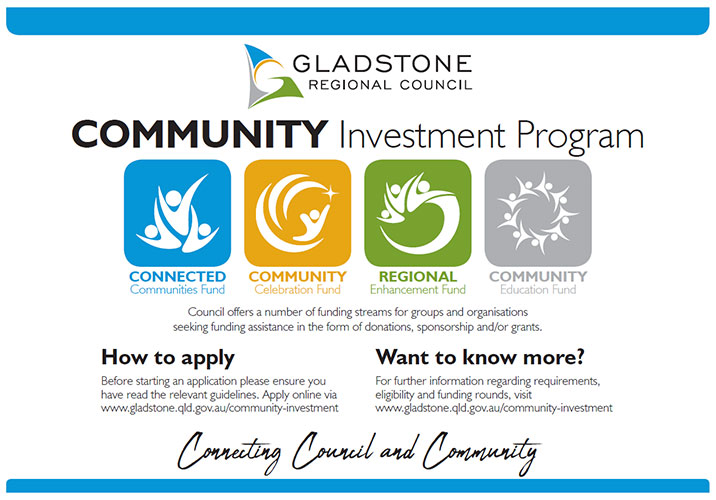 Gladstone Regional Council will host a series of roadshows aiming to inform the community about funding options available under its Community Investment Program.
The Community Investment Roadshow will commence on 5 February and run until 22 February, encompassing eight locations within the Gladstone Region.
Four funding initiatives sit under the Community Investment Program umbrella including the Connected Communities Fund, Regional Enhancement Fund, Community Celebration Fund and Community Education Fund.
The Connected Communities Fund enables Council to provide support for community connection, social inclusion, access and participation.
The Regional Enhancement Fund provides Council with the opportunity to provide support for the continued growth of our region, fund the reinvigoration and activation of our region and to protect and preserve our natural assets.
Building community pride, boosting the local economy and promoting the Gladstone Region is the main objective of the Community Celebration Fund, while the Community Education Fund aims to recognise academic achievement and encourage the development of knowledge and skills.
Council officers will attend the roadshows and will be on hand to answer questions and educate the community on the four different funding streams available under the Community Investment Program.
Gladstone Region Councillor Natalia Muszkat said the Community Investment Program was about building engaged, involved and proud communities within the Gladstone Region.
"We want to empower our communities to identify local areas of need and they can do that via the Community Investment Program," Cr Muszkat said.
"Anyone from sporting clubs, recreation and active recreation groups, community progress associations, local education institutions, charitable organisations, peak sporting agencies, event organisations and arts, heritage, museum and cultural organisations could be eligible for funding.
"If you think your group, club or organisation could use a funding boost, I encourage you to visit www.gladstone.qld.gov.au/community-investment and check out what's on offer."
See Also