Water saving initiatives encouraged in latest funding round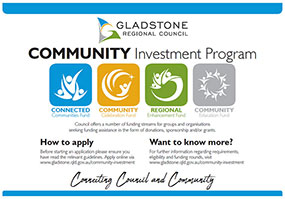 Sport and recreation clubs interested in developing water conservation initiatives are encouraged to apply for funding in Council's latest Sport and Active Recreation–Community Projects funding round
The Sport and Active Recreation – Community Projects funding round is open to applications until 29 February and is designed to support organisations that own, lease or control land to enhance their facilities to enable increased sporting participation.
Applicants can apply for funding between $2500 to $30,000 (ex GST) with projects required to be finished within 12 months.
Gladstone Region Mayor Matt Burnett said the funding round was open to all not-for-profit sporting organisations or active recreation groups based in the Gladstone Regional Council area.
"Council is keen to see funding applications that are focused on water saving initiatives," Cr Burnett said.
"Project examples could include the installation of water-efficient shower heads in change rooms, rainwater tanks, water-efficient taps, dual flush toilets and other projects with the ability to conserve water.
"While this funding round has a focus on water saving initiatives, it by no means excludes other projects that enhance amenities or facilities at our local sporting clubs and active recreation groups.
"Guidelines on project eligibility can be viewed on Council's website."
To find out more visit www.gladstone.qld.gov.au/regional-enhancement-fund and click on the Sport and Active Recreation – Community Projects section.
From there applicants can find eligibility criteria and a comprehensive guideline to assist them during the application process.
See Also
News Items
Media Releases
Community Investment