Experience fine music with orchestra's live broadcast in Gladstone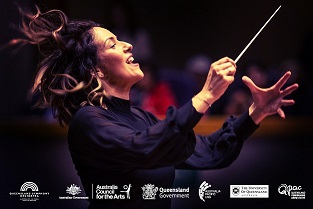 Gladstone Region residents will be able to experience a memorable Queensland Symphony Orchestra (QCO) concert with an upcoming live broadcast into the Gladstone Entertainment Convention Centre (GECC).
Timeless will be the final performance led by Music Director Alondra de la Parra as she finishes her tenure as Music Director with QSO.
The concert will be broadcast live from Brisbane's Queensland Performing Arts Centre (QPAC) on Saturday, 16 November.
Gladstone Region Councillor P J Sobhanian said this was a great opportunity for Gladstone Region residents to enjoy a performance by some of Queensland's most highly regarded musicians.
"This is a chance for Gladstone Region families to experience fine music at a remarkable price at the GECC without lengthy travel or added expenses," Councillor Sobhanian said.
Tickets to Timeless are $5 each, or are free for GECC Loyalty Patrons, but bookings are essential.
Alondra has impressed audiences in Queensland with her dynamic conducting, warm personality and dedication to bring orchestra music to as broad an audience as possible.
"This is an opportunity for residents who have followed and have experienced QSO performances under Alondra's musical direction to enjoy her finale concert," Cr Sobhanian said.
The Timeless concert will include British pianist Paul Lewis, a master of the instrument, performing the ever-popular Grieg Piano Concerto, accompanied by Ravel's Rhapsodie espagnole and finishing with the spectacular crowd-pleaser Symphony No.5 by Tchaikovsky.
Tickets for Queensland Symphony Orchestra's live broadcast of Timeless at the GECC can be booked online at www.gladstoneentertainment.com
See Also