Queensland Symphony Orchestra - Timeless Live from QPAC
Be swept away to Spain in Rapsodie espagnol. Performed by the Queensland Symphony Orchestra and live streamed from Queensland Performing Arts Centre (QPAC).
Timeless will be the final performance led by Music Director Alondra de la Parra as she finishes her tenure as Music Director with Queensland Symphony Orchestra. Alondra has wowed audiences in Queensland with her dynamic conducting, warm personality and dedication to bring orchestra music to as broad an audience as possible. This dynamic concert, broadcast live from QPAC into the Gladstone Entertainment Centre will include British pianist, Paul Lewis, a master of the instrument, performing the ever-popular Grieg Piano Concerto, accompanied by Ravel's Rapsodie espagnol and finishing off with the mighty Symphony No.5 by Tchaikovsky, a spectacular and rousing crowd-pleaser.
Queensland Symphony Orchestra Music Director is proudly supported by Tim Fairfax AC.
The Artist-in-Residence program is supported by The University of Queensland.
Presented in association with QPAC.
**This is a live streamed performance from the Queensland Performing Arts Centre (QPAC) performed by the Queensland Symphony Orchestra. The GECC Theatre will be fitted with a large screen to view the performance. **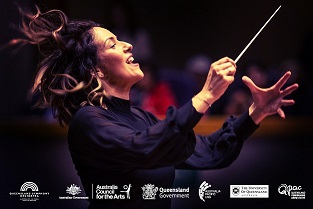 See Also