Exhibition: Sailing Matters
Sharing the stories of the inaugural Brisbane to Gladstone Yacht Race of 1949, we celebrate 75 years of welcoming the competitors over the finish line. 11 Mar - 15 Apr 2023
This social history exhibition showcases historical images and memorabilia from Douglas Drouyn, skipper of the Sea Tang. Mr Drouyn was one of the founding members of the Queensland Cruising Yacht Club and the Brisbane to Gladstone Yacht Race.
Douglas' son, Denis Drouyn donated these items from the family collection to the Gladstone Regional Art Gallery & Museum.
Sailing Matters Presentation
Mr Denis Drouyn, son of Douglas Drouyn skipper of the Sea Tang, will be presenting unique historical insights and showcasing artefacts from the first Brisbane to Gladstone yacht Race.
10.30am-12.30pm, Wednesday, 5 April 2023
RSVPs appreciated on 4976 6766 or Email: gragm@gladstone.qld.gov.au
After the presentation there will be time to ask Denis questions followed by light refreshments.
Learn more here.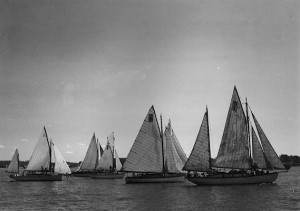 1949 Start of the Brisbane to Gladstone Yacht Race - GRAGM Collection, Photographer Ivan Holm
When
11 March - 15 April 2023
Cost
Free
Bookings
Not Required
Contact
Phone: 4976 6766
Email: gragm@gladstone.qld.gov.au
Location
Gladstone Regional Art Gallery & Museum, Cnr of Goondoon & Bramston Sts
Print this page