Gladstone United FC Sign On Day (Sat 8 Feb)
Register now for 2020. New players Sign On Day Sat 8th Feb. Register online on www.playfootball.com.au 9:30am-11am
Existing players can register now on the Play Football (https://www.playfootball.com.au/) website.
We welcome new players to register online through the Play Football website, or join us at Sign On Day on Saturday the 8th of February.
Don't forget, pre-season training for the senior teams commences Tuesday 21 January, 6.30pm at United Park. New and existing players welcome.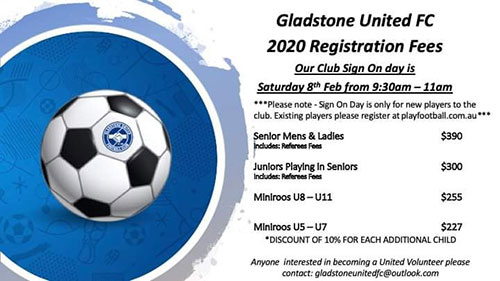 FAIR PLAY VOUCHERS:
Don't forget to apply for a Fair Play Vouchers (the old Get Started Voucher). Go to:
https://www.qld.gov.au/recrea…/sports/funding/fairplay/apply
once you get a voucher, tick the 'Fair Play Voucher' option in the registration and the amount will be automatically taken off your total.
NOTE: Copy / photo of the Voucher must be sent to gladstoneunitedfc@outlook.com before your child's registration will be approved.