Clean Up Australia Day
We are all part of the problem - but YOU can also be part of the solution. Clean Up Australia Day is held on the first Sunday of March each year. Register online.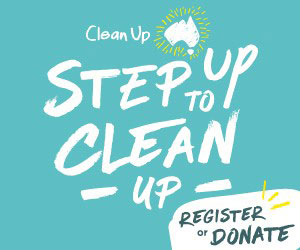 Clean Up Australia Day is scheduled over 3 days.   
Get involved
Step Up to Clean up as a Community - Sunday 3 March 2024
Business Clean up - Tuesday 27 February 2024
Schools and Youth Groups - Friday 1 March 2024
Clean Up Australia any day of the year
Note: Commencing 2023, Council will be aligning with the Great Northern Clean-up day on 16 – 18 September.
Our region often experiences hot and humid weather in early March. The regions north of the Tropic of Capricorn have been participating in the Great Northern Clean Up since 2009, and aligning with the Great Northern Clean Up enables participation in cooler months reducing fatigue, heat and dehydration risks to participants.
The community are still welcome to create their own Clean Up event in March via the Clean Up Australia Day website, however they will be responsible for the disposal of waste to one of the regions waste facilities.
Gladstone Regional Council supports the community during Clean Up Australia Day by providing free disposal of waste at the transfer stations and landfills provided the waste is presented at the facility in Clean Up Australia day bags. View facility locations and operating hours online.
Council sincerely appreciates the communities ongoing support of Clean Up efforts in the Gladstone region and hope that people will be able to register a site for the Great Northern Clean Up event in September.
Further details regarding the Great Northern Clean Up will be provided closer to the date. Please follow the link for more details on the Great Northern Clean Up https://www.cleanup.org.au/gncu.
---
Council's Community Events Calendar is provided for non-profit and community groups to advertise upcoming events:
See also...
Print this page