Council welcomes 20 new apprentices and trainees in latest intake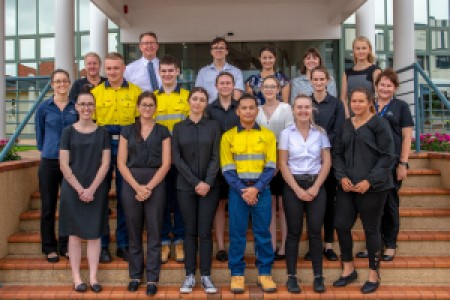 Gladstone Regional Council (GRC) has this morning welcomed 20 new apprentices and trainees as part of its annual intake.
The enthusiastic new starters joined GRC General Manager for People Culture and Safety, Theunis Mienie on the front steps of Council's Goondoon Street office to mark their first official day of work. Gladstone Region Mayor Matt Burnett said the 2020 intake of apprentices and trainees covered a wide variety of roles.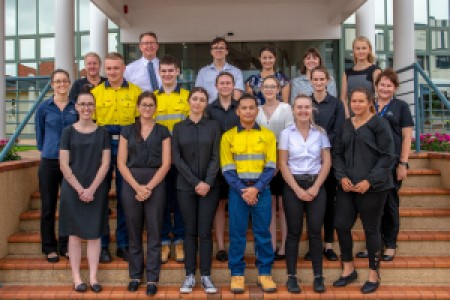 "We have 11 business trainees, two apprentice mechanical fitters, an apprentice diesel fitter, waste management trainee, warehousing trainee, process operator trainee, conservation and land management trainee, apprentice plumber and an apprentice electrician," Councillor Burnett said.
"We received 1115 applications across the 20 positions, so Council would like to thank those who took the time to apply and wish the successful applicants the best of luck on their GRC journey.
"Apprenticeships and traineeships can last anywhere between one and four years, and Council encourages these applicants to seek employment with GRC closer to the end of their training.
"Council takes pride in helping facilitate the upskilling of the hard-working people in our region across a diverse range of roles at a variety of locations."
Gladstone Area Group Apprentices Ltd (GAGAL) were engaged during the recruitment process, helping provide aptitude testing for apprentices and trainees, and an assessment centre for the 11 business trainees.
Visit www.gladstone.qld.gov.au/current-vacancies to find out about available positions with Gladstone Regional Council.
See Also