Community encouraged to use RegionWatch website at any time of year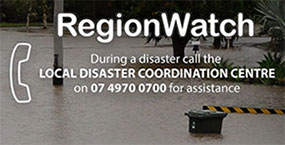 Council is encouraging residents to save the RegionWatch website on their favourites list for up-to-date and vital information during emergencies and disasters.
RegionWatch provides automatic, live updates from necessary sources, eliminating the need to contact Council with basic enquiries or search online for the most up-to-date information during an emergency or disaster.
The website is also a valuable resource tool year-round, with weather forecasts, power outages and road condition information updated automatically into the RegionWatch dashboard.
Gladstone Region Mayor Matt Burnett encouraged community members to not only save the RegionWatch website on their favourites list, but to also tell their friends and family.
"The RegoinWatch website is a fantastic resource where community members can access live updates from multiple sources," Councillor Burnett said. "It highlights road conditions, roadworks, Bureau of Meteorology weather warnings, power outages, flood cameras, school closures from the Department of Education and emergency bulletins from Council's disaster management system.
"Many of these features are useful all year round and accessible on the go, as the RegionWatch system is mobile friendly."
Visit http://regionwatch.gladstone.qld.gov.au to familiarise yourself with the RegionWatch dashboard.
See Also