Agnes Water Skate Park to close for repairs and maintenance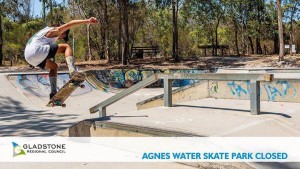 Council would like to advise residents the Agnes Water Skate Park will be closed to all public access from Monday 9 March until Friday 27 March.
The skate park, located at Springs Road in Agnes Water, will be fenced off for public safety while repairs and maintenance take place.
If works are completed ahead of schedule, the skate park will reopen prior to 27 March.
The playground and park amenities will remain open while the works are being carried out.
Council apologises for any inconvenience these works may cause.
Please contact Council's Park Services on (07) 4970 0700 regarding any issues or concerns.
See Also
News Items
Media Releases
Public Notices and Outages