Second round of Community Event funding now open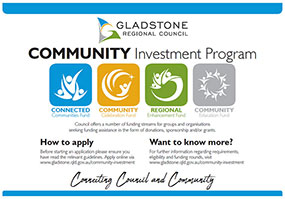 Not-for-profit organisations throughout the Gladstone Region are invited to apply for the second round of Council funding to stage a community event between May and August this year.
Community Event funding supports community-led events that are run by community organisations for a broad public benefit.
The Community Event funding falls under Council's Community Celebration Fund, which is designed to build community pride, boost our economy and positively promote our region.
Gladstone Region Councillor Natalia Muszkat said the fund provided an opportunity for the staging of regional events where people can gather, celebrate and participate.
"In supporting these events Council wants to foster a sense of community pride," Councillor Muszkat said.
"This funding initiative is specifically designed to assist not-for-profit community organisations who are both based in or servicing the Gladstone Region.
"This funding round is open until the end of February, so please visit Council's website for a comprehensive guideline on funding eligibility."
Applicants can apply for up to a maximum of $1500 (ex GST).
To be eligible to apply for Community Event funding, the organisation must:
Be a not-for-profit organisation based in or servicing the Gladstone Regional Council area (other than a sporting club)
Be incorporated
Have an Australian Business Number (ABN) or complete and attach a 'Statement by a supplier' form
Be financially solvent.
Visit www.gladstone.qld.gov.au/community-celebration-fund to view the Community Event funding guidelines or to apply.
See Also
News Items
Media Releases
Community Investment