Gladstone PopCon 2019 set to ignite creative minds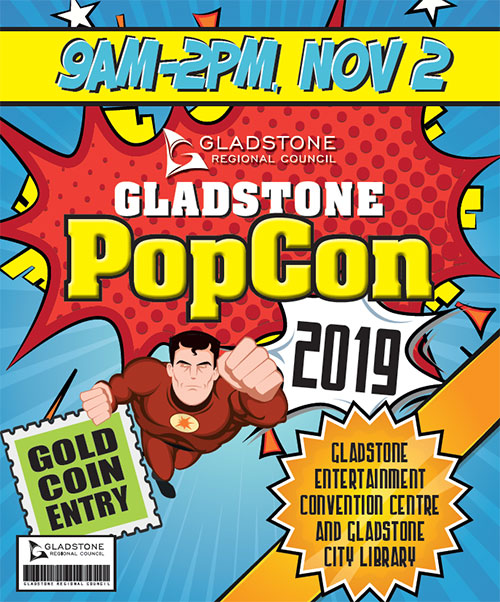 Pop culture enthusiasts can have the ultimate Star Wars fan experience with Australia's only Lightsaber combat team, take a selfie with a T-Rex or Velociraptor.
Gladstone Region Mayor Matt Burnett said Gladstone PopCon 2019 at Gladstone Entertainment Convention Centre (GECC) is the place to be on Saturday, 2 November.
"It's the region's largest pop culture convention showcasing comics, 3D printing, virtual reality technology, cosplay, video games, wrestling and more," Councillor Burnett said.
"PopCon is a space to show appreciation and love for the fun parts of the media we consume, from movies and television to books and video games, as well as enter competitions to win some great prizes."
There will be over 50 activations, workshops and stalls and the chance to meet and greet some special guests during the day, including signings with authors Ian Irvine, Tara Ingham, Shelley Russel Nolan, Cassie Laelyn and Linda Higgins.
Channel Nine's LEGO Masters 2019 favourites Jimmy and Maddy along with one of Australia's top 3D printers – Joshua Hawthorn from Grizzly Tech – are also part of the exciting PopCon line-up.
Various competitions will be running throughout the day including Junior LEGO Legends, Senior LEGO Legends, Lucky Door Prize and Cosplay Competition.
The Cosplay Competition will include Cosplay Parade, Prop Competition, Kids Parade and Cosplay Championship.
The Lucky Door Prize winner will receive two VIP tickets to Marvel Universe LIVE! In Brisbane on Saturday, 11 April 2020, plus return airfares from Gladstone.
Pop culture conventions are now big business throughout the world, from Comic-Con International in San Diego to Australia's Oz Comic-Con and gaming's massive PAX.
More and more pop culture fanatics are looking for new experiences and like-minded people to share their interests with.
Gladstone PopCon 2019 will run from 9am-2pm Saturday 2 November at GECC and is gold coin entry.
For more information on Gladstone PopCon 2019 and competition T&Cs, visit https://gladstoneentertainment.com/popcon/
See Also