Everything old is new again on the 2019 Garage Sale Trail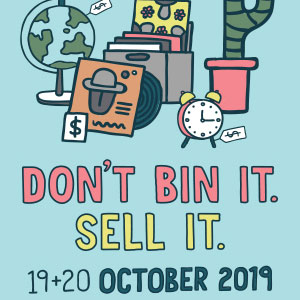 Yearning for a simpler life but don't know what to do with all your 'stuff'?
Then Council invites you to join the national Garage Sale Trail campaign on Saturday, 19 October and Sunday, 20 October.

This national initiative allows people to declutter at home but also encourages community groups, schools, businesses to reduce, reuse and recycle.
Gladstone Region Acting Mayor Chris Trevor said selling things you no longer need was a great way to do something for the environment.
"It creates a chance to rehome items that may otherwise end up in landfill, and you can meet some of your neighbours at the same time," Councillor Trevor said.
Sale sites have already been registered across the Gladstone Region for this year's event, but there is still time for individuals, sporting clubs, educational facilities, groups and other organisations to join for free.
Items listed for sale range from clothing and accessories to kids' stuff and toys, homewares, electronics, furniture, music and instruments, vintage or designer fashion, tools, plants, books, magazines, craft and handmade items.
Cr Trevor said Council was pleased to be one of 150 Councils supporting the national initiative.
"Taking part in the trail allows sellers to promote their sale items for free and for buyers to map out their own sale trail to follow over the weekend," he said.
Registrations can be made online at www.garagesaletrail.com.au/Gladstone
For more information, contact Council on 4970 0700.
See Also