Sporting groups called to participate in Club Development Workshops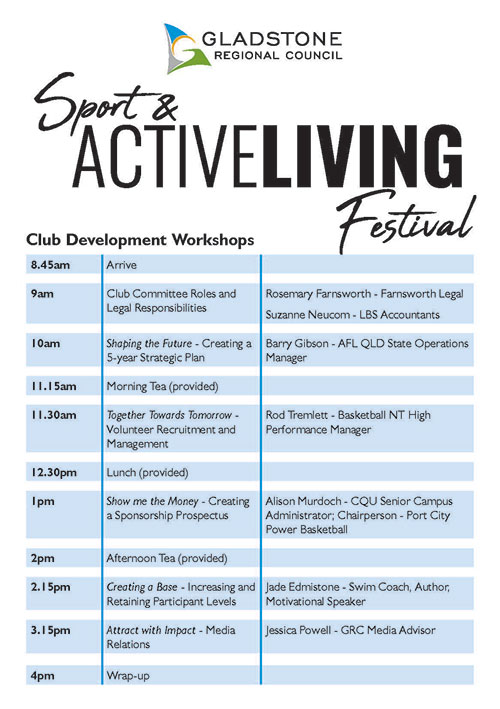 Gladstone Regional Council is calling all sport and active recreation groups across the region to take part in the Club Development Workshops, a part of the Sport and Active Living Festival Program.
The Club Development Workshops will be held from 9am–5pm, Saturday, 19 October 2019 at the Gladstone Entertainment Convention Centre.
Gladstone Region Councillor Rick Hansen said the full day program would help provide the knowledge, tools and resources sporting clubs require to ensure their resilience and longevity.
"This is a fantastic opportunity for local organisations to gain additional insight into areas that will aid them in improving their service delivery and capacity," Councillor Hansen said.
"Many of our sporting organisations are run by dedicated community members and volunteers, and these workshops will enable organisations to work smarter, not harder.
"All of the workshops offer insightful tips and tricks into a range of topics, including committee roles and legal responsibilities, to attracting local media to your events."
Cr Hansen said the day would conclude with a networking dinner, where participants will meet with the guest speakers and have a chance to find out more about their experience. "
The dinner also provides the perfect opportunity for our local groups to meet and discuss their experiences with sport and active recreation in the region," he said.
"I encourage groups to get involved and enhance both their capabilities and their network."
For more information on the Club Development Workshops, call Council's Community Engagement Centre on 4976 6300 or visit www.gladstone.qld.gov.au/salf-workshops
The cost for the workshop and the networking dinner is $60 per ticket. Tickets can be booked via the Gladstone Entertainment Convention Centre website, https://gladstoneentertainment.com/event/club-development-workshops/, or by calling the box office on 4972 2822.
See Also
News Items
Media Releases
Workshop Information
​