2019 Santos GLNG Mayor's Charity Ball
The fifth biennial Mayor's Charity Ball was held on Saturday, May 11, 2019, from 6:00pm till late at the Gladstone Entertainment Convention Centre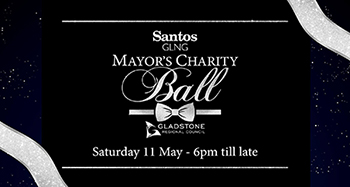 The fifth biennial Mayor's Charity Ball was held on Saturday, May 11, 2019, from 6:00pm till late at the Gladstone Entertainment Convention Centre.
The Gladstone Regional Council are pleased to announce Santos GLNG were once again the presenting partner for the event.
Beneficiaries
The charities that were chosen to benefit from the funds raised at the event are as follows:
Port Curtis District Scouts aim to encourage the physical, intellectual, social and spiritual development of all young people, so that they take a constructive place in society as responsible citizens and as members of their local, national and international communities.
Gladstone Community Linking Agency offers disability services to people of all ages, along with services for over 65's. Services can include personal care, day respite and short-term accommodation, supported independent living and aqua therapy.
The Zonta Club of Gladstone is a diverse group of professional women working together to advance the status of women locally and worldwide through service and advocacy. Zonta propose to use funds raised to deliver a range of programs that support the development and growth of young women in our community.

Creative Recycling Centre is an inclusive community creative based recycling centre that engages and inspires behavior change within our environment. The organisation's aim is to create a self-sufficient business/community model with the potential to be shared with other communities worldwide.
If you would like to be a part of next years event, please contact the Community Events team for more information.
---
Please direct any questions to the Community Events team on Phone: 07 4977 8615 or email CommunityEvents@gladstone.qld.gov.au