Gladstone Regional Libraries Food Drive Campaign
Gladstone Regional Libraries are encouraging residents to make donations of non-perishable foods and basic toiletries this holiday season.  Donate at any of our GRC Libraries until 17 December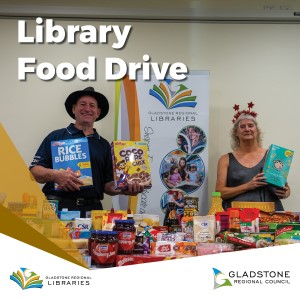 Our Libraries are working with the Food Centre, Roseberry Qld and Little Free Community Pantry at Agnes Water to collect donations of non-perishables and basic toiletries starting 14 November.
Each of our seven library locations will have a basket displayed for people to leave their donations.
Some examples of donations are canned food (with ring pull that don't require a can opener), Christmas and pantry staples such as rice or dried beans, puddings, toiletries such as period products and toilet paper.  
All donations must be unopened and in date.   
Make a donation and help someone in need this holiday season. 
Print this page