Expression of Interest: Gladstone Saiki Sister City Advisory Committee 2024
Gladstone Regional Council is committed to creating lasting and meaningful relationships that promote and enhance the Sister City relationship between the Gladstone Region and Saiki City, Japan.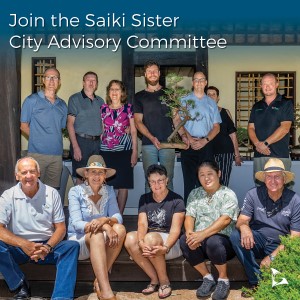 Council is seeking expressions of interest from community members to provide Council with strategic advice and support on ways and means to enhance the sister city relationship and program.
The committee actively undertakes the facilitation and organisation of cultural, social, recreational and other exchanges and activities with the objective of nurturing and fostering the sister city relationship, celebrating diversity within the Gladstone Region and creating a more connected community.
The Committee consists of voting members and non-voting members and meets 10 times a year.
To express your interest in membership to the Gladstone Saiki Sister City Advisory Committee, please complete the nomination form and submit to Council by close of business Friday, 6 October 2023. Membership is determined by Council resolution.
Print this page