Letters to Santa @ Gladstone Regional Libraries
Write Santa a letter or draw him a picture and he'll personally reply. Post your letter in the mailboxes on display at your local library! Mail opened Monday 22 November and closes Friday 11 December.
Santa letters will be collected from Monday 22 November until Friday 11 December at your nearest Library. Name and address must be included.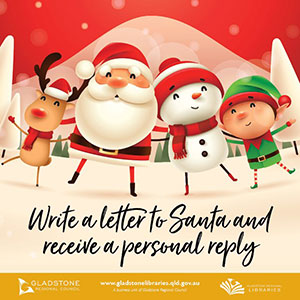 Children can drop off their letter to Santa at the following libraries:
 Agnes Water Library
 Boyne Island Library
 Calliope Library
 Gladstone City Library
 Miriam Vale Library
 Mount Larcom Library.
More information can be found at:
Print this page