Letters to Santa @ Gladstone Regional Libraries
Write Santa a letter or draw him a picture and he'll personally reply. Post your letter in the mailboxes on display at your local library! Mail closes Friday 9 December.
Santa letters will be collected from Monday 21 November until Friday 9 December at your nearest Library. Name and address must be included.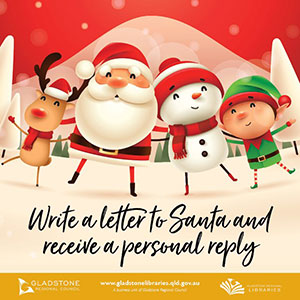 Children can drop off their letter to Santa at the following libraries:
 Agnes Water Library
 Boyne Island Library
 Calliope Library
 Gladstone City Library
 Miriam Vale Library
 Mount Larcom Library
 Philip Street Precinct Library.
More information can be found at:
Print this page