Colour Me Capricorn Gladstone
RACQ Capricorn Rescue invites you to be a part of the most colourful fun run in Gladstone this year! Cover the Gladstone Ports Corporation Marina Parklands in a cloud of colour on Sunday 11th Oct 2020
RACQ Capricorn Rescue invites you to be a part of the most colourful fun run in Gladstone this year! Run, walk, dance or stroll your way along the garden path, covering the Gladstone Ports Corporation Marina Parklands in a cloud of colour on Sunday 11th October 2020.

There will be an energetic warm-up and 5km of colourful fun! We will have two distance options (2.5km & 5km) to cater for all ages and abilities.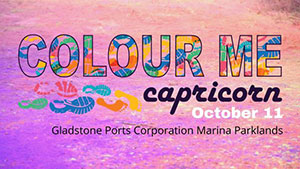 All proceeds from Colour Me Capricorn Gladstone will go towards the RACQ Capricorn Helicopter Rescue Service. For more information head to https://chrs.org.au/event/colour-me-capricorn-gladstone/.

Unfortunately the Gladstone Community Open Day after Colour Me Capricorn has been postponed and will no longer be held on Sunday 11th October 2020.