Calling for Submissions: The 44th Rio Tinto Martin Hanson Memorial Art Awards
Artists across the nation are encouraged to submit their entries into Queensland's much-anticipated art awards. Delivered to GRAGM between 10am-5pm, Thursday 10, Friday 11 and Saturday, 12 October 2019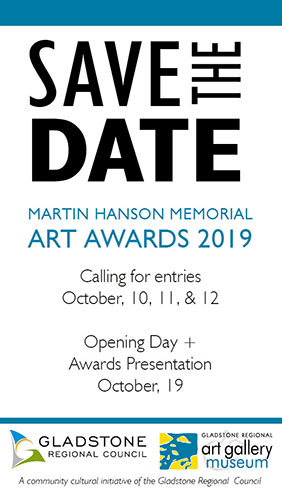 CALLING FOR SUBMISSIONS:
Submissions for The 44th Rio Tinto Martin Hanson Memorial Art Awards 2019 are to be delivered to the Gallery & Museum, on the corner of Goondoon and Bramston streets, Gladstone, between 10am - 5pm, on Thursday 10, Friday 11 and Saturday 12 October.
The entry fee is $15 per submission, with a maximum of two entries per artist. Download the Art Awards brochure, containing Conditions of Entry, and entry form, below.
There are four sections of entry:
Section 1: Easel Paintings
Section 2: Works on Paper
Section 3: Three Dimensional & Fibre Works
Section 4: Digital Works
All artists are encouraged to check the Conditions of Entry carefully, to avoid disappointment.
The 44th annual Art Awards are supported by all-local individuals, businesses and industry, and return with a prize pool of $40,000.
This year's Awards will be judged by Simon Elliott, Deputy Director, Curatorial and Exhibitions, Queensland Art Gallery | Gallery of Modern Art. The winners will be announced at the exhibition's official opening, 6pm, Saturday, 19 October 2019.
For more information, visit Art Awards.
For all enquiries, please contact the Gallery & Museum on phone (07) 4976 6766 or email gragm@gladstone.qld.gov.au.