Calliope Rodeo & Specialty Events (Saturday)
We are ALL FIRED UP here at Calliope. Looking forward to an amazing rodeo in September. It's going to be HOT HOT HOT. Gates Open 3pm Fri 27 and 1pm Sat 28 September
Calliope Rodeo
Friday 3pm action from 5pm | Saturday 1pm action from 3pm
STRICTLY NO BYO ALCOHOL
Eskies and vehicles will be checked, Photo ID will be needed for 18+
FREE CAMPING
Please respect other campers and our Neighbours
We know you love you pets, but a busy Rodeo is not the place for them, so please leave them safe at home.
TICKET SALES
You can purchase at the gate - no online sales (please beware of scammers), Cash and EFTpos available.
SCAMMERS
Please be very aware that scammers target our page. We have tried to block and report, but it has become ridiculous. Some things to note;
* We do NOT live stream.
* We will NOT be selling tickets online.
* This is our only page.
* We do NOT do any monetary transaction on Facebook.
* If it looks suss it probably is, so don't click on it.
The Calliope Rodeo and Specialty Events are held every year on the last weekend in September.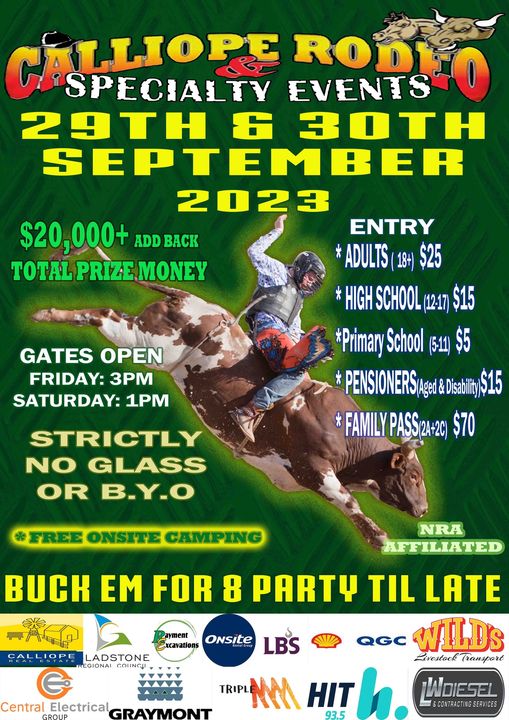 ---

Council's Community Events Calendar is provided for non-profit and community groups to advertise upcoming events:
See also...
Print this page