2023 Santos GLNG Mayor's Charity Ball
The biennial Mayor's Charity Ball will be held on Saturday, May 27, 2023. Sold Out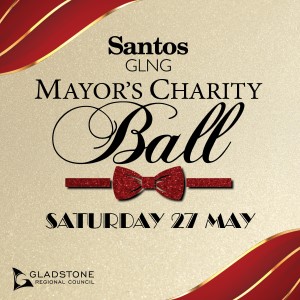 The Gladstone Regional Council are pleased to announce Santos GLNG are once again the presenting partner for the event.
An event that promises to be the highlight of the 2023 event calendar – the 2023 Santos GLNG Mayor's Charity Ball with Mayor Matt Burnett.
Be sure to save the date to fundraise in style with special guests and live entertainment. Saturday 27 May, 2023 from 6.30pm.
Sold Out
---
Beneficiaries
The charities that have been chosen to benefit from the funds raised at the event are as follows:
Quoin Island Turtle Rehabilitation Centre is the only organisation dedicated to the rescue and rehabilitation of sick and injured (critically) endangered sea turtles in the Gladstone region, and involves members of the local community in their care. Facebook page
Zonta Club of Gladstone raises awareness and supports local women and children through its International Woman's Day Events, Scholarships at local primary schools and CQU, Chaplaincy Programs at local high schools, Breast Cancer Cushion Workshops and, on an international level, the Birthing Kit Workshops. Website
Gladstone Animal Rescue Group Inc accepts the unwanted cats and dogs from the Gladstone Regional Council area and provides food, companionship, vaccinations, worm and flea treatment as well as all vet care including desexing prior to rehoming to forever homes. Website
---
Charity Ball Auction Donations
If you would like to donate an item or voucher to be included in the Auction please complete the online form. All donations must be delivered to GECC between 9am-3pm, 22 May 2023.
Please direct any questions relating to the 2023 Mayor's Charity Ball to the Community Events team via phone: (07) 4977 8615 or email CommunityEvents@gladstone.qld.gov.au
Print this page