Inaugural Amateur Photography Competition
Take a winning photograph to showcase the beauty and spirit of the Mount Larcom area and your winning snap will then be featured on souvenirs which could travel the world.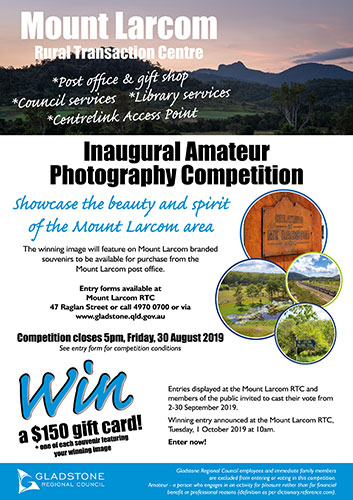 Mount Larcom Rural Transaction Centre is hosting its Inaugural Amateur Photography Competition to showcase the beauty and spirit of the Mount Larcom area.
The competition is open to Gladstone Region residents and photographs must be taken in Mount Larcom or surrounding districts including: Aldoga, Ambrose, Bracewell, Darts Creek, East End, Machine Creek, Mount Larcom, Raglan, Targinnie and The Narrows.
The winning image will feature on Mount Larcom branded souvenirs which will be available for purchase mid-November from the Mount Larcom post office.
Competition opens: 1 August 2019
Competition closes: 5pm, Friday, 30 August 2019
See entry form for full competition details. Consent Form
Entries will be displayed at the Mount Larcom RTC and members of the public will be able to cast their vote at the RTC from 2-30 September 2019.
The winning entry will be announced at the Mount Larcom RTC on Tuesday, 1 October 2019 at 10am.
---
Gladstone Regional Council employees and immediate family members are excluded from entering or voting in this competition.
Amateur - a person who engages in an activity for pleasure rather than for financial benefit or professional reasons (definition as per dictionary.reference.com).