Mystery on the Orient Express
Can you help our famous detectives solve the mystery on the Orient Express? Get ready to indulge in an evening of intrigue, laughter and song, as you uncover the secrets that lie within. Fri 22 Sept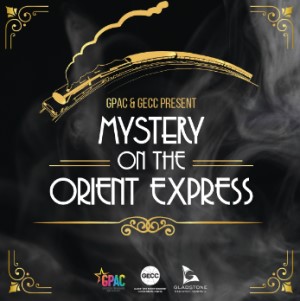 GECC and Gladstone Performing Arts Company present 'Mystery on the Orient Express'.
Step aboard the enchanting Mystery on the Orient Express, a theatre restaurant experience that will transport you on a thrilling journey through Europe's most captivating destinations. From the moment the train departs Waterloo Station, prepare to be captivated by a mesmerising blend of singing, dancing and mystery.
As the train glides through the picturesque landscapes of France, Italy, Switzerland and Austria, a diverse cast of characters comes alive on board. Join the iconic duo of the bumbling Holmes and clever Watson as they embark on a perplexing adventure. With their comical antics and ingenious deductions, they set out to solve the intricate puzzle that unfolds within the luxurious cabins of the Orient Express.
Help our famous detectives solve the mystery surrounding the exotic Russian countess Pullitoffski.
We promise an unforgettable night of immersive entertainment, mystery, comedy and show-stopping performances!
Recommended for ages 13+
Time/ Date (SOLD OUT)
Friday 22 September:
6pm - Doors open
6:45pm - Dinner will be served
7:15pm - Show commences
Ticket includes alternative drop main, dessert and a complementary drink.
Arrive early and enjoy a pre-show drink at the GECC bar prior to the show.
---
Print this page