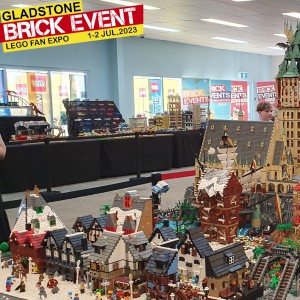 Come and see the custom displays showcasing amazing LEGO® creations built by our own LEGO Masters.
Come and marvel at our LEGO Train displays, massive Theme Park, Agents Airport and the incredible Magical World of Harry Potter in LEGO, plus many more.
Let your imagination run wild on the Build Tables or write your name in LEGO on the Build Wall.
The Gladstone Brick Event is an affordable, exciting and creative event that everyone can enjoy.
Some of the profits of the Gladstone Brick Event go towards Camp Quality - Helping Kids face cancer.
Need to take some LEGO® home? All the latest LEGO® merchandise will be available from the Bricks n Fun store.
Visit www.brickevents.com.au and like us on Facebook for the latest Brick Events updates!